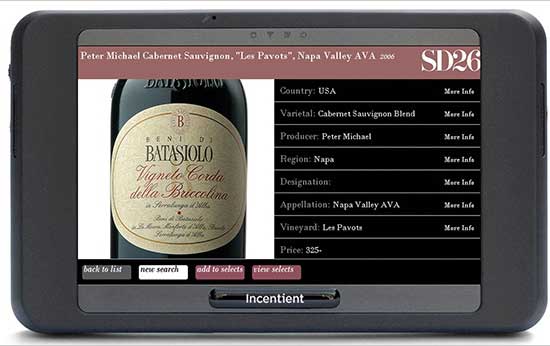 We don't talk wine all that often (unless it comes stored in some futuristic case or served by a robot), but SD26 — a new restaurant in New York City — is giving us another good reason to: its electronic wine lists.
The Smartcellar handhelds were originally created by New York-based Incentient to act as a more efficient way for sommeliers to keep track of inventory, but it quickly became more than that. "We see a lot of customers accustomed to using their iPhones in dining rooms, scouring the Internet looking for information about the wines on the list," SD26 wine director Jason Ferris told the New York Times, "So this is just the next logical step."
Smartcellar gives diners and sommeliers a wealth of searchable information, including what region and vineyard a bottle of wine is from, its price, producer, and whether or not it's out of stock.
Via New York Times
For more gadget news, check out DVICE.com
Copyright DVICE - DVICE