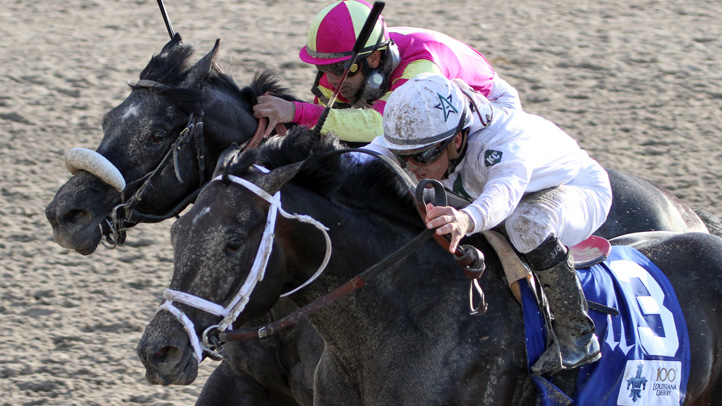 Some trainers would love to saddle just one horse in the Kentucky Derby for their entire career.
Todd Pletcher will have five in the one coming up. Maybe even a record six.
"I have a tremendous appreciation for how difficult the Kentucky Derby is to win," said the trainer, who has had better luck at just about every other big-money race. "Even if you have the best horse, a lot of times that doesn't mean you're going to succeed."
He should know.
He is 1 for 31 in the Derby, which goes off next Saturday, and five times since 2000 the last-place finisher has been a horse from his barn.
Three years ago, Pletcher ended an 0-for-24 skid when the long shot Super Saver, one of four horses he entered, won under a rail-hugging ride by Calvin Borel. That was the year Pletcher had the favorite, Eskendereya, who was forced to drop out six days before the Derby with a leg injury. He also had the horse to beat the following year, Uncle Mo, who was scratched with a stomach ailment on Derby eve.
Well, just in case, Borel is back this year and will ride Pletcher's Revolutionary.
A full field of 20 horses is expected for the 1 1/4-mile race when they break from the gate at Churchill Downs.
"You have to have everything go right on the day and during the race, and get lucky with the weather, and the track condition, and all those things," Pletcher said. "But all that being said we couldn't be more happy with the cards that we're holding at the moment."
His ace clearly is Verrazano, undefeated in four career starts this year, a stat that could make him the favorite. The colt will try to buck a Derby jinx that has no horse since Apollo in 1882 winning without racing as a 2-year-old.
"Based on the way the horse has trained for us all winter, he's given me the impression that I've never really seen the bottom of him, so that's very encouraging to me," Pletcher said.
Besides Verrazano and Revolutionary, his other entries include Overanalyze, Palace Malice and Charming Kitten. And there could still be a sixth horse — Winning Cause.
Pletcher's mentor, D. Wayne Lukas, has a shot at making Derby history. The 77-year-old Hall of Famer could become the oldest trainer to win with either Will Take Charge or Oxbow. The four-time Derby winner would surpass Charlie Whittingham, who was 76 when Sunday Silence won in 1989.
"I don't feel any different than when I came in here at 50. There's still the adrenaline rush. There's still the enthusiasm," Lukas said. "The horse is the most important ingredient. You better have the horse and then some luck."
Bob Baffert, a three-time winner and Hall of Famer himself, is back, too. He finished second last year with Bodemeister, and this time will saddle Governor Charlie. Like Pletcher, he likes to flood the zone, so to speak. His other possibilities are Code West and Power Broker.
Hall of Famer Shug McGaughey, who hasn't won in his last six tries, will send out Florida Derby winner Orb.
This year's road to the Derby trail claimed a number of contenders, including two Pletcher horses — Breeders' Cup Juvenile winner Shanghai Bobby and Violence. Also knocked out with knee injuries were Flashback, trained by Baffert, and Hear the Ghost from Jerry Hollendorfer.
Trainer Doug O'Neill goes for consecutive wins a year after I'll Have Another pulled off the upset at 15-1 odds. O'Neill is following the same script: Goldencents won the Santa Anita Derby and his jockey, Kevin Krigger, is a relative unknown.
I'll Have Another was overlooked as the Santa Anita Derby winner, as was his jockey, Mario Gutierrez.
"The dream seems to be getting better," O'Neill said. "Having got it done, this year's dream just seems more real, like we could possibly do it back to back."
Goldencents' ownership includes Louisville basketball coach Rick Pitino, who could hit the ultimate trifecta — winning the NCAA title, being elected to the Hall of Fame, and winning the Derby all in the same year.
Krigger will be just the second black jockey in the Derby since 1921 and, if he wins, he would be the first since Jimmy Winkfield earned his second victory in 1902.
"It's already hard enough of a goal to get into the Kentucky Derby for any jockey, whether you're African-American, Hispanic, white," he said. "There's 20 jockeys every year that will make it into the Kentucky Derby, so it's not a race that's meant for everyone. And you need that special horse."
For the first time in Derby history, the field of 20 starters is determined by points.
Churchill Downs put in place a system that awards a sliding scale of points to the top four finishers in 36 designated races. The top 20-point earners at the end of the series earn a spot in the Derby starting gate.
Under the system that had been used since 1986, earnings in graded stakes decided which 20 horses ran in the Derby.
Copyright AP - Associated Press