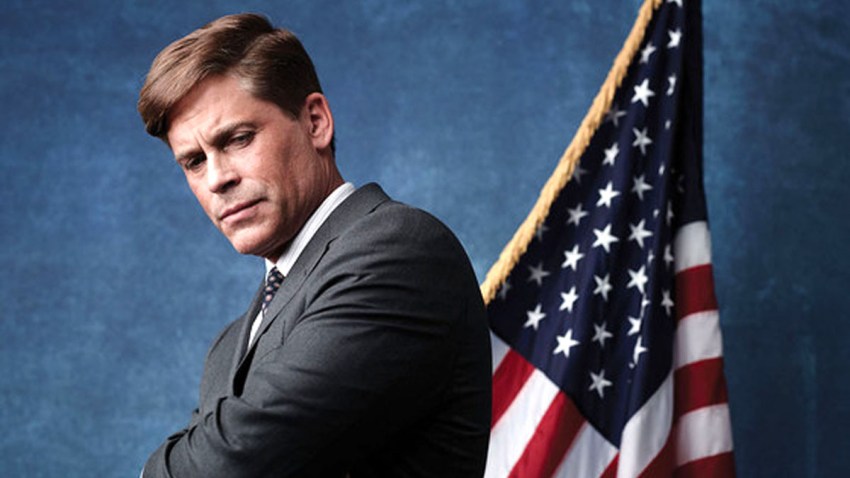 People are still fascinated by President John F. Kennedy.
"Killing Kennedy," the docu-drama adapted from Bill O'Reilly's best-selling book and starring Rob Lowe as JFK, attracted record ratings for the National Geographic Channel, the network announced on Monday. "Killing Kennedy's" Sunday night telecast garnered 3.4 million viewers, just beating "Killing Lincoln's" (also based on best-selling book from O'Reilly) previous record of 3.351 million viewers. "Kennedy" matched "Lincoln" in the all-important adults 25-49 demo (both notched a 1.1 rating).
"Killing Kennedy demonstrated once again that our constant efforts to expand the type of programming National Geographic Channel presents is paying off," NGC president Howard Owens said in a statement of the biopic that told the parallel stories of JFK and Lee Harvey Oswald (Will Rothhar) over the course of the four years leading up to the beloved president's assassination. "The discussion about this film became part of the national zeitgeist, and I specifically want to thank our partner and friend Rob Lowe, as well as the entire cast, for their tireless efforts to promote this film and make sure our audience knew about it."
VIDEO: Rob Lowe and Michelle Trachtenberg talk about tranforming themselves for Killing Kennedy
"Killing Kennedy," which also starred Ginnifer Goodwin as Jackie Kennedy and Michelle Trachtenberg as Marina Oswald, was also a hit for the network online; NGC boasts that #killingkennedy was the number one trending topic in the U.S. during the telecast. Plus, National Geographic Channel's Web site experienced record traffic (2.1 million page views).
O'Reilly, who served as an executive producer said, "'Killing Kennedy' took what was accomplished with 'Killing Lincoln' and elevated it to a national story. The collaboration of National Geographic Channel and Scott Free led to a movie both the viewers and critics embraced. I could not be more pleased with the response and look forward to even more success with our next collaboration, 'Killing Jesus.'"
Production on "Killing Jesus" is set to begin in early 2014.
Lowe recently talked to E! News about taking on the role of JFK, a part he always dreamed of playing. "I had always thought maybe someday I might play Jack or Bobby because they're my heroes," the Parks and Recreation star revealed." So when this came my way, I was pretty excited about it."
The 50th anniversary of Kennedy's assassination is on Nov. 22 and while there have been many retellings of the tragic tale, Lowe credited Killing Kennedy's decision to tell the story from both Kennedy and Oswald's point-of-views as the reason the docu-drama stands apart from the rest. "The question is why do we need another Kennedy movie?" he explained. "The answer is because of the brilliant construct of the way this story is told of taking Lee Harvey Oswald and JFK at the same moment in time in 1960. These parallel lives meeting like Titanic meets the iceberg, you know it's coming."
Copyright E! Online