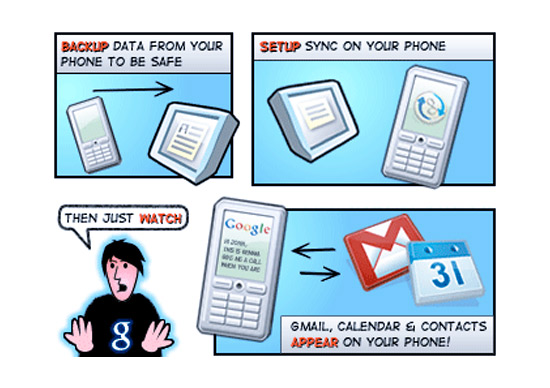 Why can't Google and Apple get along?
Google has enabled push email with the iPhone after a long wait. When Apple first launched the iPhone, it rolled out push email with Yahoo, not Google's geek-beloved Gmail. Ever since we've started using the iPhone, we wished for this, and in the meantime used GPush, which was off to a rocky start but now works perfectly.
Anyway, now there's no third-party app necessary to get your Gmail on the go, because Google worked around Apple and modified Google Sync, working through the Microsoft Exchange account on the iPhone to bring your email messages instantly.
Now, those emails are updated in the same way you could previously sync your calendar and contacts. No more waiting around for those messages to be pulled at preselected intervals, or manually checking your e-mail — hooray! There's one catch: You can only use one Exchange client at a time, so if you use Microsoft Exchange at work, you can't use Exchange for push Gmail.
Oh, and there's this problem: Business Insider reports that Google's new push email isn't working because of a crush of new users. That could be due to AT&T's already overtaxed network, though.
Nice, Google. Now if you can just figure out how to work around Apple's mulish refusal to approve a Google Voice dialer for the iPhone, and AT&T's sluggish data network, justice will be done. I'm hearing a few people say GPush is faster than push Gmail over the Microsoft Exchange client, so I'm thinking I'll stick with GPush for now. Let us know about your experiences and comparisons in the comments.
Via TechCrunch
NBCBayArea.com contributed to this report.
For more gadget news, check out DVICE.com.
Copyright DVICE - DVICE