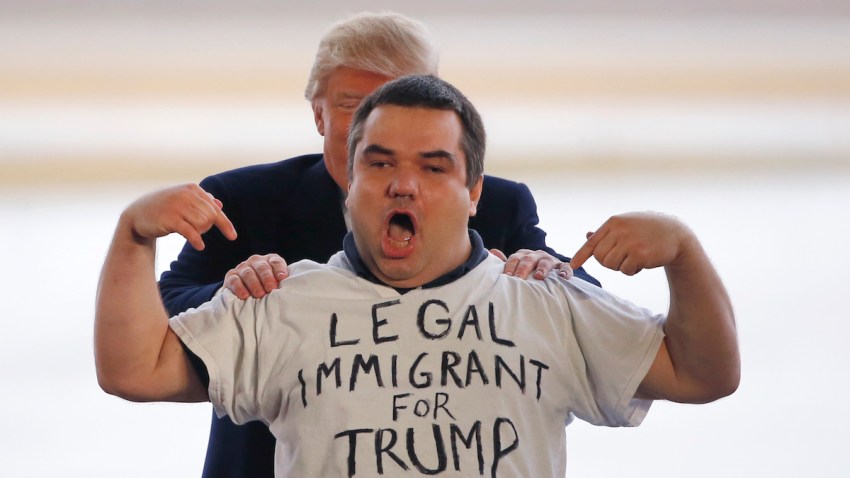 The mood was far more muted Sunday outside the Bloomington airport in central Illinois, where about 100 protesters gathered along an access road on an a foggy, overcast morning near the airplane hangar where Republican presidential candidate Trump spoke at a campaign event.
A large police presence was overseeing Trump's rally. The (Bloomington) Pantagraph reports officers from several law enforcement agencies are working together to staff the Sunday morning event.
Trump pulled a man from the crowd up on stage who was wearing a T-shirt that said "Legal Immigrant for Trump." The supporter said he came to America when he was 5 years old. It was unclear which country he migrated from.
"My dad went through hell to get us citizenship, and we did it by the book," the man said to a cheers from the crowd.
While the GOP frontrunner's tough stance on immigration has been the cornerstone of his presidential bid, his controversial statements on Mexicans and Muslims have also incited opposition to his campaign.
On Friday night, Trump canceled a rally at the University of Illinois at Chicago after a large number of protesters showed up.
Some isolated confrontations took place afterward and police reported three men from Chicago and a 45-year-old woman from Michigan were arrested and charged for participating in a disturbance at the protest.
Meanwhile, a man arrested after trying to jump on the stage at Trump's campaign event in Dayton reportedly told police he planned to grab the microphone and yell that Trump is a racist but didn't intend to hurt anyone.
The Dayton Daily News reports that it has obtained a police report that says 22-year-old Thomas DiMassimo told officers that he'd given his car keys to his girlfriend at Saturday's rally anticipating that he'd be arrested. DiMassimo, of Fairborn, was charged with misdemeanor inducing panic and disorderly conduct. He was released on bail.
DiMassimo, an acting student with Wright State University's theater program, couldn't be reached for comment. It's unclear if he has an attorney.
Copyright AP - Associated Press