A fire at a Federal Aviation Administration facility in suburban Chicago turned one of the nation's busiest travel hubs into a travelers' nightmare Friday morning, forcing airlines to ground or cancel hundreds of flights at O'Hare and Midway international airports as authorities battled and investigated a blaze they believe was intentionally set by a contract employee.

The incident prompted the cancellation of approximately 2,000 flights in and out of both airports, the Chicago Department of Aviation said, snarling plans for travelers across the country.

There were more than 1,400 cancellations at O'Hare -- which this week reclaimed the title as the world's busiest airport -- and 400 were canceled at Midway. Southwest Airlines canceled all flights at Midway and Milwaukee's General Mitchell International Airport through at least 7 p.m. A United Airlines spokesman said "very restricted operations" resumed from O'Hare just before 10 a.m.

[[277220702, C]]
[[277192161, C]]

"It's been terrible. I got to the airport early. Flights seemed to be on time when I checked," said Diana Cordova of Chicago. "I'm trying to get to Phoenix this morning. It doesn't look likely. Hopefully tomorrow."

[[277234791, C]]

Officials with the Aurora Fire Department said crews were called to the Chicago Air Route Traffic Control Center on West New Indian Trail Road after 5:45 a.m. Friday. Agents from the ATF, the FBI and the DuPage County Arson Task Force were later called to the scene.
The fire was quickly extinguished and a man found in the basement with an apparent self-inflicted, non-gunshot wound was hospitalized. Another man in his 50s was treated for smoke inhalation, officials said.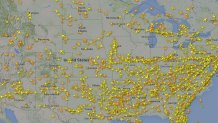 "There was no explosion but we are being cautious," said Aurora Police Chief Greg Thomas. "There is no terrorist act. ... This is a local issue with a contract employee and nothing else."

The building was evacuated of all other employees and airspace management was transferred to adjacent air traffic facilities, an FAA spokesman said.

It was just four months ago that smoke seen emanating from the Chicago Terminal Radar Approach Control building in Elgin forced the cancellation of more than 1,100 flights between the two airports.