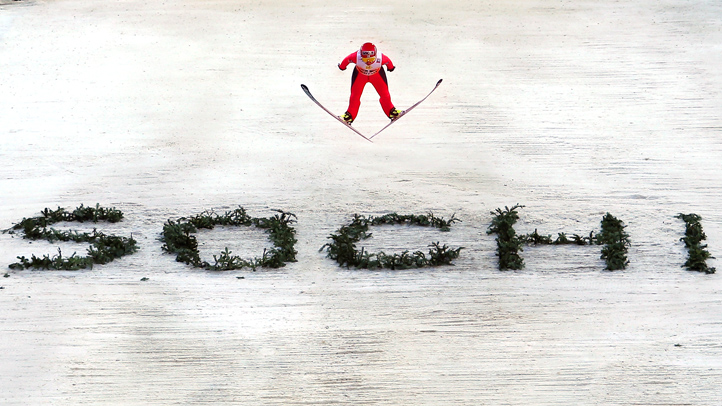 The 2014 Winter Olympics in Sochi, Russia, are exactly one year away. The Sochi Games will take place Feb. 6-23, 2014, when new stars will compete, new olympic sports will debut, and a city will be rebuilt -- at a record price -- for the occasion.
Let's get our bearings and see what's new at the Sochi -- pronounced 'so-chee' -- games:
New Faces
Every Olympiad presents a new cast of heroes, but guessing who they'll be is a fool's errand. But that won't stop us. Here's an early list of who to watch for in February 2014:
A 20-year-old figure skater from Arizona, Max Aaron played hockey until he was 9. He's won the United States Figure Skating Championships and the U.S. International Figure Skating Classic this season, and could be America's best medal hope in men's figure skating in Sochi.

Ashley Wagner was an Army brat born in Germany, but raised all over America. Earlier this year she became the first woman since Michelle Kwan to defend her United States Figure Skating Championships crown, and she won two other titles this season. And Men's Health named her one of the US's 20 Hottest Winter Athletes.

Born in 1995, skier Mikaela Shiffrin isn't old enough to vote. Nonetheless, the Vail native is on the fast track to Sochi, leading the World Cup slalom standings with three wins and a pair of third-place finishes.
Snowboarder Arielle Gold, 16, makes Shiffrin seem aged by comparison. Already this year, Gold's taken gold in the halfpipe at the FIS Snowboarding World Championships and bronze in the SuperPipe at the Winter X Games.

Born in Singapore to an English-Thai father and Chinese mother, Vanessa-Mae was a violin prodigy who's gone on to achieve wealth and fame as a musician. But she also skis, and she now wants to become the second person to represent Thailand at the Winter Games. She's been training for three years in Zermatt, Switzerland, with an eye toward competing at Sochi in the giant slalom and possibly the slalom.

You likely remember hurdler Lolo Jones from her disappointing effort at the London Summer Games, but you've not seen the last of her. In October she was named to the U.S. bobsled team, and in January she won gold in the mixed team event at the World Championships in St. Moritz.
New City
The 2014 Winter Olympics present Russia with both a shot at redemption and a chance to shine. Coming off the 2010 Games in Vancouver, where Russia won its fewest gold medals ever, the former Soviet republic is hosting its first Winter games, in the Black Sea resort town of Sochi (So-chee).

Just north of the Russia-Georgia border, Sochi opened its first resort in 1909, and was for a time a favored vacation spot for Stalin. But over the next five years, Sochi will transform into an international sports mecca, hosting three major events: the Winter Olympics, the Russian Formula 1 Grand Prix, and games for the 2018 World Cup.
The Sochi Games will be the most compact in Olympic history, with a Coastal Cluster and a Mountain Cluster of venues connected by a 30-minute railway ride. On the banks of the Black Sea, all six ice rinks are within walking distance of each, as are the five skiing and sledding venues up in the mountains--one of which is named "RusSki." Each cluster will have its own Olympic Village, with competitors being able to walk to any venue within their cluster in 15 minutes or less.
But rebuilding the city for an event like the Olympics isn't cheap -- Russian officials expect it to cost about $50 billion, according to the Wall Street Journal. That will make Sochi the most expensive Olympics ever -- five times Russia's original estimate for the games and $10 billion more than what China spent on the Beijing summer games in 2008.
The price tag will include building 15 new sports venues, hotels to house more than 10,000 guests, and revamped communication and transportation infrastructure. About 85% of the infrastructure had to be built from scratch, IOC officials told the Moscow Times.

New Time Zone?
The time difference between the U.S. and London made things difficult for American sports fans during the London Olympics last summer. This issue will be heightened significantly in 2014, as Sochi is another three hours ahead, meaning a 9 a.m. race on the Black Sea will take place at 1 a.m. on the East Coast.
There's been enough concern about this that there's been some speculation about changing Sochi's time zone for the Olympics: Moving the time zone back one hour could aid broadcast times. The IOC discussed a time zone change with Russia's government, but denied it made a formal request, and no change appears imminent.
New Sports
The IOC has added a dozen new medal events for next year's games: men's and women's slopestyle skiing and slopestyle snowboard (for the uninitiated, "slopestyle" involves lots of X Games-style tricks off of jumps and rails), men's and women's parallel special slalom snowboard, men's and women's halfpipe skiing, women's ski jumping, mixed relay biathlon, team figure skating and luge relay.
The luge relay, though, is not as perilous as you might expect -- the "hand off" is done by hitting a button at the bottom of the hill that lets your teammate at the top know they can head down.
Visit NBCNews.com for breaking news, world news, and news about the economy