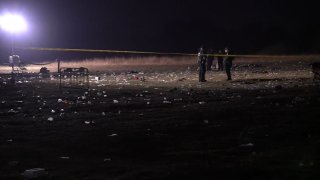 Dallas police are investigating after one person was killed and at least 14 others were injured in a shooting at an outdoor concert in Southern Dallas overnight Saturday.
According to the Dallas Police Department, officers responded to a shooting at an unpermitted trail ride and concert in the 5000 block of Cleveland Road at approximately 12:13 a.m.
As of Monday afternoon, officers confirmed that 15 people were shot including three juveniles. A 16th person was also hurt but was not injured in the shooting.
Kealon Dejuane Gilmore, 26, was killed in the shooting. Gilmore is reported to have been shot in the head near the stage and died at the scene.
The 15 people injured in the shooting have been identified by Dallas Police as 20-year-old Christian Adams, 22-year-old Jazmin Anderson, 24-year old Randy Davis, 25-year-old Forlando Dean, 29-year-old Breanna Gray, 24-year-old Ashley Jones, 24-year-old Willie Martin, 22-year-old Madison May, 18-year-old Jamal Rylander, 29-year-old Terra Starks, 24-year-old Sebastian Williams and three unnamed juveniles ages 13, 14 and 15.
The conditions of the survivors and the nature of their injuries are not immediately known.
Dallas Chief of Police Eddie Garcia said Monday afternoon that seven off-duty officers were said to be working at the event but that they left before the outbreak of violence.
More U.S. and World Coverage
Garica added that the event organizers did not have a valid permit from the city and that the officers should not have been working an unpermitted event. Garcia added that the department's internal policies will be reviewed.
A preliminary investigation determined that at the event one individual fired a gun into the air and another individual fired a gun into the crowd, police said.
The mother of the man killed in the shooting told NBC Dallas-Fort Worth that her son rarely attended large gatherings but said he felt safe because the concert promoted the presence of Dallas Police at the concert.
Dallas Mayor Eric Johnson said the shooting was "horrific and unacceptable" and that he was hopeful those responsible will be arrested.
"I am praying for the victims, and I look forward to our police department bringing those responsible to justice," Johnson said. "Public safety remains our top priority, and I will be conferring with Police Chief Eddie Garcia to see what more can be done to stop this kind of violence in our city."
So far, police have not named any suspects or announced any arrests. The investigation into the shooting is ongoing.
Anyone with information is asked to contact Homicide Unit Detective Christopher Anderson at 214-671-3616 or c.anderson@dallascityhall.com.
SECOND MASS SHOOTING IN DALLAS IN AS MANY WEEKS
This is the second shooting of this severity to occur in Southern Dallas in the last three weeks. Dallas Police have not said if the shootings are connected.
At least 10 people were injured and one person died on March 19 when someone opened fire outside an event center in Dallas, police said. The shooting occurred in the 5200 block of Botham Jean Boulevard at a venue called The Space Dallas. Police said a crowd of more than 1,000 people were at the venue, both inside and outside, when someone fired at least 30 shots, hitting at least 10 people.
"I really want them to catch who's doing this because innocent people are getting hurt," said Dominique Wilson whose 18-year-old son, Anthony, was killed at the shooting last month.
She heard the news of what happened on Sunday, which instantly brought back many memories of what she recently experienced.
"When I saw that video of what happened at the trail ride it brought tears to my eyes," said Wilson. "These are innocent people, these innocent young adults that do not deserve any of this."
Crime Stoppers will pay up to $5,000 for information that leads to the arrest and indictment for this felony offense and other felony offenses. Call Crime Stoppers at 214-373-8477, 24 hours a day, 7 days a week.
SACRAMENTO MASS SHOOTING
Another mass shooting occurred during the early morning hours of April 3 in Sacramento, California.
Authorities announced an arrest in the case Monday afternoon. The latest details in the case are here.