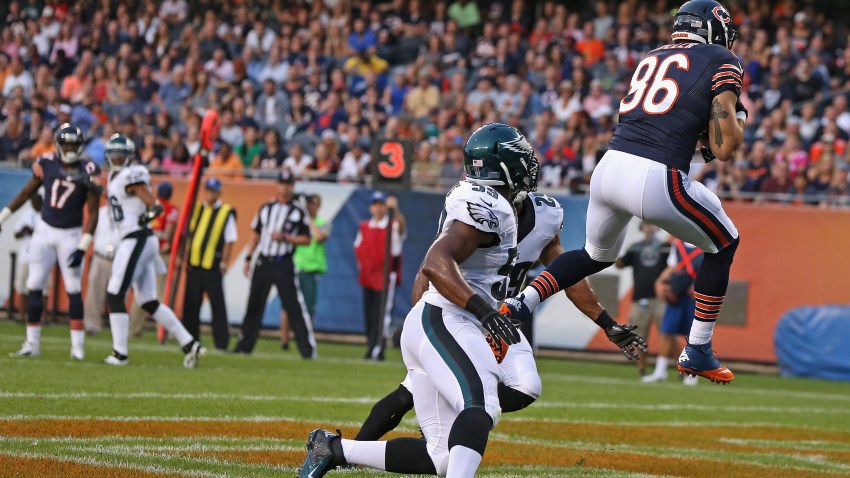 THAT Zach Miller.
After his college career ended at Nebraska-Omaha, Zach Miller was asked to take part in 9-on-7 drills at tight end for NFL Scouts. Miller did as told, but truth be told, had no idea what he was doing.
"I was getting my butt whooped" Miller laughed.
The college quarterback had never played tight end. Suddenly, a scout from Carolina Panthers walked over and asked if everything was okay. Miller told him he'd never played the position before and the scout realized he was THAT Zach Miller -- not to be confused with the former Arizona State product now with the Seahawks.
The scout informed the other scouts in attendance about the snafu, but Miller ended up getting drafted by the Jacksonville Jaguars anyway -- at tight end.
"I had to relearn everything. Having that quarterback mentality really helped me," Miller explained. "It's a whole different game. It's a different angle, a whole different perspective, more physical. I had to get used to that."
The guy once described as a "poor man's Tim Tebow" now insists playing quarterback is out of his system. But he still likes having the ball in his hands, as evidenced by his two touchdowns in the Bears preseason opener against the Eagles.
Sidelined the past few years by injury, Miller is competing in Bears camp for a backup position behind starter Martellus Bennett. The Bears like his 6'5 size and hands while he works on blocking. In the preseason opener, he lined up in the slot, split out and at H-Back.
"The more I can move around the better for me," Miller admitted. "I still obviously have to work on the end line thing. It's something my body type ... I'm not going to line up against a 280-290 pound D-end and block him one-on-one."
Miller's all-state basketball instincts come through as well. Six years ago his vertical jump was measured as high as 38 inches, and recently he showed he still has it, jumping 65 inches in a one step box jump.
Motivation comes easily for Miller and in many forms. His Nebraska roots are an arm's length away with his family crest tatooed on his left bicep. Wahoo, Nebraska, once made famous by being David Letterman's "Home Office" Top Ten List, now brags Miller's NFL career too.
Once jealous of his buddy's guitar collection, Miller put himself in front of his computer screen watching hours and hours of YouTube videos to learn how to play the instrument himself.
For a guy that taught himself guitar, learning the tight end position should be an easy task -- or not.
"They're completely different" Miller laughed, "I can play guitar all by myself, tight end I have to compete with somebody else."
Miller's building his own Top Ten reasons the Bears should keep him.