It's been a long time since we Hawks fans had six weeks of non-Chicago-involved hockey to watch. It was two years ago when the Hawks missed the playoffs completely. But we were so excited by that team, with Toews and Kane in their rookie years, that we didn't mind the long summer. This one feels different.

So what do you do with the hockey that's on offer?
One could suggest that you just watch dispassionately, but is that ever really possible? Of course it isn't. You need to support someone. I'm here to help. Let's look at who's left, and figure out where to go:
Vancouver - Clearly this is out.
Detroit - Move it along.
San Jose - OK, here's a candidate. Though we've laughed at the Sharks and their fans for their repeated playoff collapses in the past four or five years, perhaps it's time we joined on this bandwagon. This is a fanbase we don't have much interaction with, so there isn't a lot of bile built up between us. Plus, with all those collapses they've gone through their share of heartbreak, so we know something about that. And while I've never hesitated to make fun of Joe Thornton and his abstract playoff performances that are like 3-D art (the ones you have to stare really hard at to see), he seems like a genuine guy. So does a lot of the team, and I'm sure there are still Antti Niemi fans in town. OK, Dany Heatley and Ryanne Clowe are tools, but no team comes without those. Won't criticize anyone who goes teal this spring.
Nashville - This may surprise some people, but I think this is where I'm going, not just because they're playing Vancouver. Yes, they're a division rival. Yes, I'm tired of Tim McGraw after every goal too. Yes, they've been a pain in our rear for years now. But this is a market success story. They've seen a pretty big increase in attendance this year and appear to finally be anchoring themselves in Tennessee. Whatever you think of Nashville as a hockey town, ask yourself what makes the league look better: one of these markets succeeding and laying roots or what's going on with the Phoenix Coyotes and Atlanta Thrashers? Exactly. Plus, I've never hesitated to compliment what GM David Poille and coach Barry Trotz have been able to do year after year with seemingly a bum's possessions. It's time for this team to make serious noise.
Washington - Eh. I won't complain if you do. Another tortured fanbase who have only seen one Finals appearance ever and didn't win a game. Not much interaction between the fanbases, a pretty interesting team to watch. But this feels like you're just in for more heartbreak. Take it or leave it.
Philadelphia - No one roots for the Flyers unless you like to torture small animals.
Boston - Little personal for me, as I have some close friends in Boston who probably have earned their day. But if you're not personally involved, rooting for Boston sports teams is akin to kicking toddlers.
Tampa - Can if you want, but they won't be around long. And Steve Yzerman is here, and they're boring as all get out.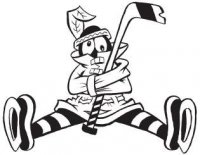 Sam Fels is the proprietor of The Committed Indian, an unofficial program for the Blackhawks. You may have seen him hocking the magazine outside the United Center at Gate 3. The program is also available for purchase online. Fels is a lifelong 'Hawks fan and he also writes for Second City Hockey .