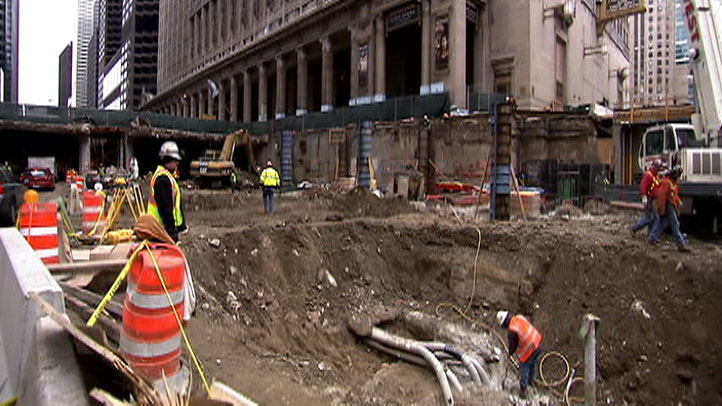 At some point, Wacker Drive will have new medians, wider sidewalks and an added foot and a half of height clearance. The changes will make the artery safer, the Chicago Department of Transportation says.
It's just going to take a while.
"We understand this is a disruption," says DOT head Gabe Klein. "As the first phase of the project has been, but it is a necessary disruption."

The Chicago Department of Transportation says the second phase of "Revive Wacker Drive," which encompasses the entire north/south portion of the roadway, is now 25 percent done, with upper Wacker -- between Randolph and Lake Streets -- now open.
"We have remained on-time and on-budget," said Klein. "Even with the bad weather this winter."

For now, the traffic headaches will shift slightly further south. While Washington Street will be open for the morning commute beginning July 5th, the intersection of Madison and Wacker will be closed to all traffic, affecting 14 Chicago Transit Authority bus routes.

"These are obviously very significant routes for us and so as a consequence these re-routes are equally significant and will have an important impact on our customers," said CTA's Chief Operating Officer, Peter Ousley, of the affected routes.

The new Upper Wacker Drive is covered with a latex-modified overlay, with a shelf-life of 15 to 20 years. Engineers say it can easily be replaced (kind of like replacing carpeting) and the solid concrete deck underneath will last at least seventy-five years.

"This new structure is going to have a useful life of many, many years. Hopefully beyond anyone that is living today," said John Yonan, the Chief Engineer of the project.

Once complete at the end of 2012, Lower Wacker -- everyone's favorite secret super-highway -- should move even faster, because there will be fewer access ramps and fewer stops.

"Sometimes people think it is about how fast you can go," Klein said. "It is actually about how many times you have to start, stop, and how effectively you can move."
Follow Anthony Ponce on Twitter, and Fan him on Facebook.