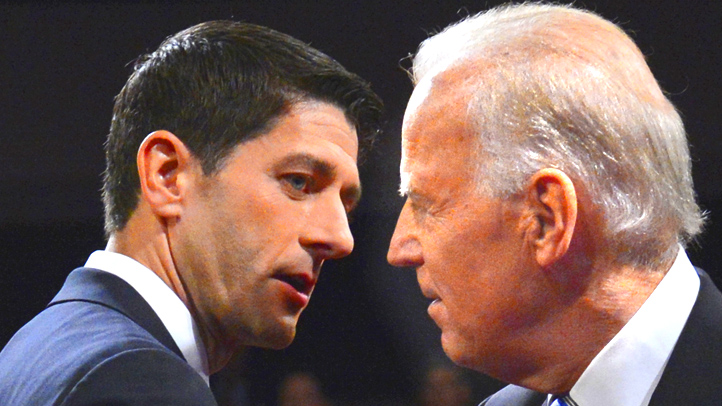 Who won Thursday night's vice-presidential debate?
This one apparently went to the Democrat. An unscientific survey of NBC Chicago viewers gave Vice President Joe Biden a commanding lead over Wisconsin Rep. Paul Ryan.

As of 6:50 a.m. Friday, Biden had logged 1,532 votes while Ryan garnered 834 votes.

Still, as these things go, members of both parties immediately put forth statements claiming their candidate victorious in the clash in Kentucky.

"Vice President Biden won tonight's debate. In a clash between facts and conviction on one side and glib lines and empty promises on the other, tonight's debate exposed the extreme risk that Romney-Ryan economics pose for the American middle-class and to our leadership in the world," Obama 2012 Campaign Manager Jim Messina opined in a email statement.

Speaker of the House John Boehner said it was Ryan who came out victorious.

"The choice for Americans in November is a big one, and Paul Ryan detailed a clear vision for a prosperous, thriving economy that fosters private sector job creation and opportunity for all," he said.

Former Massachusetts Gov. Mitt Romney called Ryan after the match-up and "congratulated him on a fantastic debate," according to traveling press secretary Rick Gorka.

Closer to home, NBC Chicago viewers offered a myriad of opinions.

"The Vice President crushed the smug, snarky rich kid," wrote Bill Wilson.

"Just because you can talk over a person doesn't make it right. Especially when you don't have a clue what your talking about. Biden just proved his arrogance and ignorance," posted Mike Peterson.

And then there was Elaine Perrecone, who expressed frustration with the process.

"I just wish they could understand that americans [sic] want bipartisanship! I dont think either won," she said.

Most viewers and analysts last week said former Romney out-performed President Obama in their first meeting. The pair will debate again on Oct. 16 and Oct. 22.