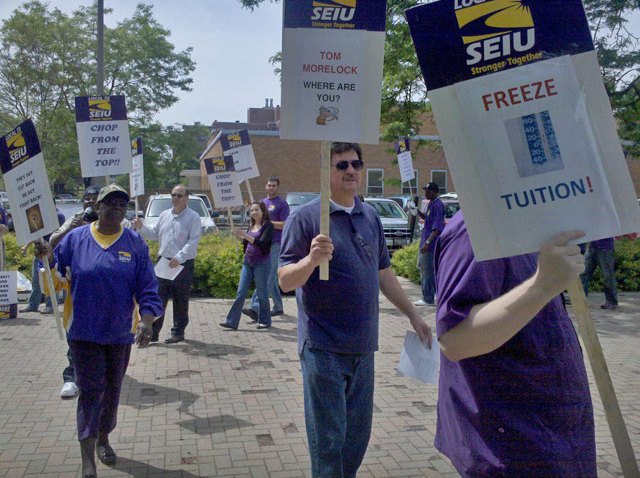 His credentials are impeccable, but is incoming University of Illinois President Michael Hogan worth $620,000 a year?
That was the question Thursday before the U of I board, along with a proposed tuition increase that could bring the cost of an education on the Chicago campus to more than $11,200 per semester.

Stanley Ikenberry, who came back to fill the post in the wake of an admissions scandal, says the current University of Connecticut president is worth the money. He called Hogan's academic credentials "superb," and said the amount puts him squarely in the middle of other Big Ten presidents.

If Hogan stays more than five years, he would qualify for an additional $225,000 raise.

While the board debated inside the Student Union on the UIC campus, protesters gathered outside, angry at the tuition hike and the increase for the president's job.

"When the president of the university makes more than the president of the United States," argued State Senator Martin Sandoval, "there is an issue." Sandoval is asking Hogan to forgo the increase, something he did at his old job.

Many of those protesting outside the board meeting were members of the Service Employees International Union, which represents more than three thousand U of I workers.

"You can't go ahead and tell the top one thing and tell the bottom they have to have cuts and layoffs and the students have to pay more tuition," said Christine Boardman, President of SEIU local 73.

In an effort to get costs under control at the massive, three campus University, the board is considering a plan to centralize procurement and information technology departments while it unravels what it admits looks like a "hairball" of organizational layers.

The school is also counting on more than $375 million in payments from the state that have not yet been made.

Of the proposed tuition increase, Ikenberry said it would average out to about 3.7 percent a year.

"All of our enrolled students will experience no tuition increase under these recommendations," Ikenberry told the board. New students, he said, "have the assurance that this will be the single increase they will face during their undergraduate career."