Friday night was five straight season-openers the Blackhawks have biffed. I think we can call it a trend now.
But they get a chance to put things right Saturday, right after a red carpet ceremony essentially meant to allow for a good hour of John McDonough patting himself on the back, and watching Marian Hossa wear a much nicer suit than everyone else.

As for the actual game, there's a lot the Hawks can do to improve on Friday night's effort.
The first would be trying to find each other's stick with a pass. Some of this had to do with simply an awful ice surface in Dallas. Sadly, the United Center surface won't be much better, considering it's always kind of crap. And now we have warm weather.

The Hawks will just have to deal with that.

But they were playing at such a frantic pace on Friday. That probably had something to do with the nervous energy of opening the season. In all likelihood though, there will be some more of that as the Hawks trot out in front of the red-clad masses for the first time. But they should settle quicker.
Secondly, their breakouts have to be better. A plague of last season was firing pucks blindly around the boards or out of the zone, not keeping possession. It led to the first goal last night when Duncan Keith was guilty of barely scratching the same zip code as his partner Nick Leddy with a ring-around, causing a turnover.
You know what also might help? Keeping the same lineup for more than five minutes. It took all of one period into the new season for Coach Quenneville to blow everything up, and the lack of cohesion was obvious. Passes went to where guys were thought to be, not where they actually were. Either Patrick Kane is playing center or he's not. Either Michael Frolik is playing center, or he's not. Pick one and stick with it.
The return of Dave Bolland might help, but there's no word on whether that will actually happen. If he does the Hawks can have a full allotment of forwards, and not have a rotating double-shifting of whatever guy is lucky enough to trot out there with Jamal Mayers and whichever of Rusty Olesz and Brandon Saad that Q deems on the 4th line.
Another note: Marcus Kruger was called up and Brandon Pirri was sent down for tonight's game. This accomplishes a couple things. It leaves the Hawks without a plethora of Brandons, and also makes sure they have one center in the lineup who doesn't really do anything noticeable.
Lots of people were gnashing teeth after last night. A win tonight and they'll all declare this team a Cup contender. That's how these things go.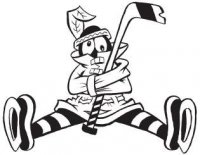 Sam Fels is the proprietor of The Committed Indian, an unofficial program for the Blackhawks. You may have seen him hocking the magazine outside the United Center at Gate 3. The program is also available for purchase online. Fels is a lifelong 'Hawks fan and he also writes for Second City Hockey .