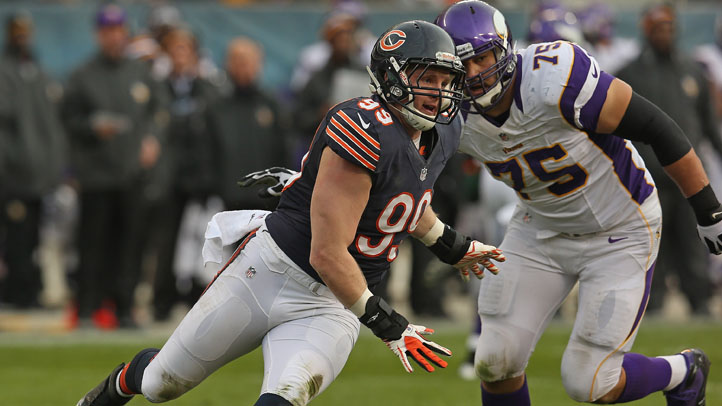 While the big news coming out of Halas Hall was the re-signings of Jay Cutler, Tim Jennings and Matt Slauson, Chicago Bears GM Phil Emery and head coach Marc Trestman both had other players on their mind.
In their opening remarks, both men mentioned defensive end Shea McClellin when recounting how the season went for the team, and both men took full responsibility for McClellin's lackluster play.
Here's what Emery had to say:
Big admission. So, now what? #LB RT @AdamHoge Phil Emery on Shea McClellin: "Putting him at defensive end, that's on me." #Bears — Matt Spiegel (@MattSpiegel670) January 2, 2014
And Trestman:
#Bears Trestman: "Shea (McClellin) is capable of more" - its our job as coaches to get everything out of him pic.twitter.com/HdMAPXL9wa — Peggy Kusinski (@peggykusinski) January 2, 2014
Trestman also said later in the press conference that moving McClellin to strong-side linebacker was an option for the team, but it wasn't one that the team felt compelled to make.
It was interesting to hear both men try to take responsibility for the decision and the execution in moving McClellin to end, but the fact of the matter is that the player simply isn't cut out for the position. His run recognition is non-existent, his pass rushing skills leave something to be desired despite his speed, and his lack of an ability to adjust if he was stopped on his initial rush really hurt the Bears in terms of getting pressure on the quarterback.
If the Bears are serious about bringing back a "disrupting" defense, as Emery put it Thursday morning, then McClellin is going to have to find a new position, and linebacker could be a great one. He could be a nice change of pace type of guy with a player like DJ Williams or James Anderson, should the Bears decide to keep one of them, and his speed could be better utilized from a stand-up position on blitzes rather than having to come out of a set position and jostle for position along the line.
It will be interesting to see how the team handles McClellin moving forward, as Emery tries to make good on the first first-round pick of his tenure as Bears GM.