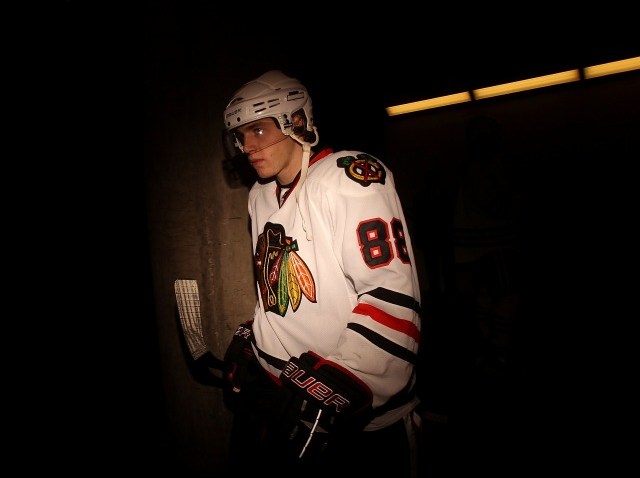 God bless Patrick Kane. He always provides something for me to write about.
Wednesday, while opening that new restaurant at O'Hare that will assuredly delight Flyers, Wings, and Rangers fans as they pass through the airport on their way to McCormick Place or wherever, Kane had a brief interview with Chris Kuc of the Chicago Tribune. In it, Kane says that Stan came to him after the signings and told him he'll have more space to do his thing.
This is kind of utter nonsense. What will go away? Probably the silliness after whistles that Kane only occasionally has to put up with. If Steve Montador or Sean O'Donnell or Jamal Mayers are on the ice when these scuffles break out, then they'll have a lovenote for whoever tries to give Kaner a face-wash. That's nice, I guess. These things never really meant anything anyway.
What also might go away are some dirtier hits. That slash to the laces when no where near the puck, the intentional hit to the head on a check, maybe a crosscheck here and there. But then again, it might not. The players who perpetuate this kind of thing, the Alex Burrows or Cam Janssen or anyone on the Kings really don't really care that there's someone who could kick their butt on the ice because they're not going to get into a fight anyway.
But what won't stop? The defending of Patrick Kane. Players who are paid to keep players like Kane from turning your goalie into a puddle aren't going to stop doing their jobs because the Hawks have someone who can hit back who isn't Patrick Kane. Kaner is still going to have to deal with palyers trying to push him around, trying to take away his space, trying to get him off his game. Legal checks shouldn't be answered with Steve Montador charging across the ice and re-enacting Macho Man attacking Hulk Hogan backstage that would lead to instigator penalties and power plays against.
The best thing Kane can do is bulk up, which he's clearly done, and use the other teams' aggressiveness against them. This is exactly what he did two years ago, when he was dominant. You couldn't knock hom off the puck, and when you didn't he had all the space defenders had vactated chasing him down with them now out of the play. He also took a hit, waiting that extra moment for a teammate to be all alone to catch a pass. He shot more, which kept defenders at bay as they couldn't just focus on taking away passing lanes. That's what protects Patrick Kane.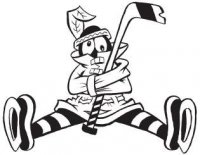 Sam Fels is the proprietor of The Committed Indian, an unofficial program for the Blackhawks. You may have seen him hocking the magazine outside the United Center at Gate 3. The program is also available for purchase online. Fels is a lifelong 'Hawks fan and he also writes for Second City Hockey .