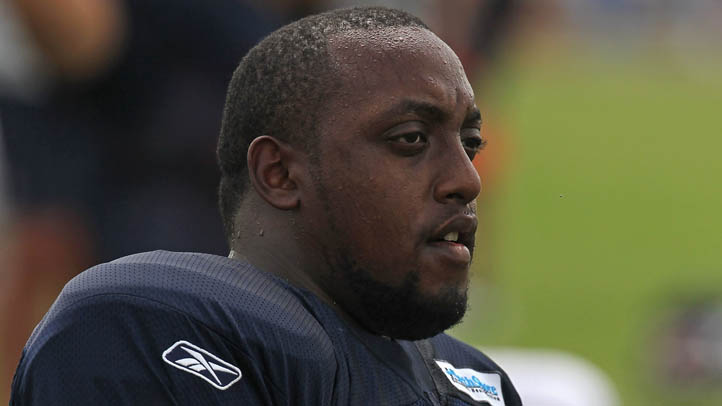 The offensive line continues to be a work in progress, as Marc Trestman announced some changes to the starting line. J'Marcus Webb was moved to the second string, while rookie Jordan Mills will play right tackle with the starters this week.
Head coach Marc Trestman cautioned this isn't set in stone.
"I wouldn't draw any conclusions about what's happened today," Trestman said. "It really is part of our plan to find the best five over the course of training camp, and in Week 2 (of preseason) this is the way we're starting."
Webb struggled at left tackle last season, giving up sacks and drawing penalties on several occasions. The Bears signed Pro Bowl left tackle Jermon Bushrod during the off-season, and Webb was moved to the right side. With Jonathan Scott out as he nurses a knee injury, Webb was getting the starting spot.
Now it goes to Mills, the Bears' fifth-round draft pick. Mills said feedback from his teammates has helped him through training camp.

"They're in your ear every time I make mistakes I can go to the sideline expecting some criticism, constructive criticism -- what to do here, you need to step this way, be a little bit lower, so it's been great working with them. In my eyes, these dudes are all Hall of Famers in my eyes, so just to be here is so humbling."
It's not the only tinkering the Bears are doing to the line. First-round draft pick Kyle Long was getting more looks at first-team right guard over veteran James Brown. Trestman said he will keep adjusting and giving different players looks, so the offensive line battles are something to watch until opening day.
Copyright FREEL - NBC Local Media