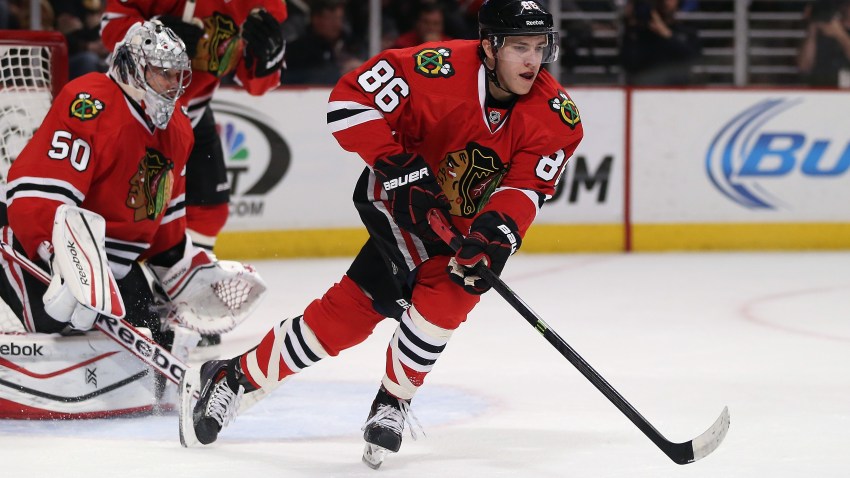 When the Chicago Blackhawks convene for training camp next month at the University of Notre Dame, there will be several young players competing for roster spots. Jeremy Morin will certainly be one, as will Joakim Nordstrom, and even defensemen like Stephen Johns and Klas Dahlbeck could get the call if the team makes a salary cap-clearing trade before then.
One player that just about every Blackhawks fans is excited about is Teuvo Teravainen, and he too will be trying to make the opening night roster. According to various reports, the youngster put on 11 pounds of muscle in the offseason, and according to Chris Block of the blog The Third Man In, the Blackhawks are willing to give Teravainen an NHL shot:
"Impression I get is a roster spot is essentially Teuvo Teravainen's to take in training camp. If he's ready, the Blackhawks will not hold him back for any reason. However, if he's still hesitant, over-thinking or a bit over-matched physically (these things will all come around, no one is doubting that) in half or more of his preseason appearances, there would be no hesitation to give Teravainen a month, two or however long it may take in Rockford."
If Teravainen does end up getting the call to come up to the Blackhawks, the question immediately becomes one of where would be fit in. The team is likely going to give Brad Richards a chance to skate with Patrick Kane and Brandon Saad on the second line, and it's unlikely that Joel Quenneville will want to break up Jonathan Toews and Marian Hossa on the top line. Teravainen could slide in at a wing spot there, but the more likely scenario would be that Patrick Sharp would start there, and Teravainen would play on the third line with Andrew Shaw and either Bryan Bickell or Jeremy Morin.
As for what the Hawks' motivation was in limiting Teravainen last season (he only played in three games, with four shots on goal and zero points for Chicago), Block says that not wanting to start the clock on the young Finnish forward's NHL contract was the primary motivation:
"No matter what they say, the Hawks absolutely did hold Teravainen back when they brought him over from Finland at the end of last season. They had no desire to burn the first year of Teravainen's entry level deal in a year when the organization itself wasn't confident that they had the best team in the Western Conference."
While the Cubs have been attacked by some for not wanting to start the contract of young phenom Kris Bryant, the Blackhawks' reasons for not doing so are inherently practical. With a ton of forwards competing for ice time, there was no guarantee that Teravainen would be in the lineup every single night, and having him benched every other game wouldn't be an effective use of the first year of his deal.
If Teravainen makes the team out of camp this time around, he would likely make it to stay, and that would mean that the team would be confident in starting the clock on the deal. It will certainly be a storyline to keep an eye on when training camp begins, and the preseason will be a great indicator of where he is in his development.