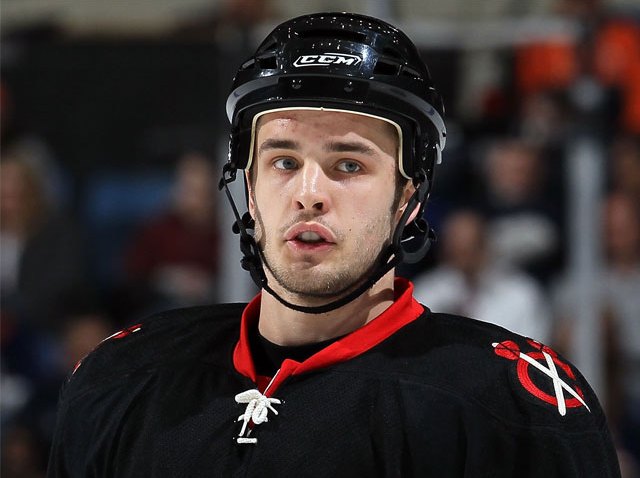 For reasons that I'm sure could be explained but it's funnier when they're not, the Hawks Swedish contingent of Niklas Hjalmarsson, Viktor Stalberg, and Marcus Kruger were on hand at the United Center to help paint the logo at center ice.
The reasons are obvious, of course, because it makes for a funny video on Blackhawks TV and probably is going to be part of an ad somewhere down the line, just as Coach Q did last year. Why else would they be wearing their jerseys (though we give a thumbs up to Hammer's old-school Bears hat!)?
Afterwards, both Hjalmarsson and Stalberg talked to assembled reporters and actually had interesting things to say:
"There are some spots in the top six and there are some spots in the bottom six," Stalberg said. "I'm going to do everything I can to take one of those (top spots). If I don't, I know I can go back and play that more physical game too. It's good for our team and good for my career that I can play a couple of different roles."
Well, Stals, they shouldn't be separate. If Viktor could combine both of those games that he kept apart last year, he'd be a real force. What both those top lines need is a physical, big forward creating space for the likes of Kane, Toews, Hossa, and Sharp. Stalberg has that size. When he was playing on the bottom lines, throwing that size around didn't always end up with great results, but at least he tried. If he did that on the scoring units, he'd find himself with more scoring chances that his plus-skills could take advantage of. He need not totally differentiate which game he plays depending on where he is in the lineup. He can combine a lot of it to help himself out.
As for Niklas Hjalmarsson, clearly he's been reading our post-season review of his play. While Kuc wildly mislabeled it as trying to improve his offensive game, what Hammer really addressed was the biggest flaw he had last year.
"Maybe I'll try to make more stick-to-stick passes and not try to play it off the boards too much."
Huzzah! Hammer gave himself and the Hawks far too many migraines last season by avoiding contact and wildly firing pucks out to the neurtal zone as if it were a game of Smash TV. This let to turnovers with guys out of position and odd-man breaks the other way. Clearly, Hammer understands that the Hawks game is built on a solid first pass out of their own zone, and how he helped break it down last season. But it's one thing to say it....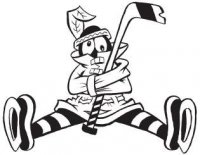 Sam Fels is the proprietor of The Committed Indian, an unofficial program for the Blackhawks. You may have seen him hocking the magazine outside the United Center at Gate 3. The program is also available for purchase online. Fels is a lifelong 'Hawks fan and he also writes for Second City Hockey .