After the Chicago Blackhawks won the Stanley Cup, Bryan Bickell and his wife Amanda decided to celebrate the victory by helping save the lives of some needy canines.
Through the Bickell Foundation they rescued six puppies, including one little brown and white pitbull they affectionately named Stanley Pup. After weeks of living with a foster family through the Chicago-based dog rescue group One Tail at a Time, Stanley Pup was officially adopted on Saturday at the rescue's new adoption center in Bucktown.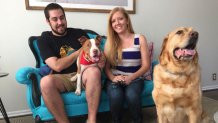 Animal lover and Blackhawks fan Laura Slivka says she's happy to make Stanley a permanent addition to her family. Slivka says she lost her first dog to cancer earlier this year and reached out to the rescue to help her family find another dog.
NBC5, Telemundo Pet Adoption Stories
Slivka said she wasn't really sure if her family was ready for a puppy, but they decided to meet Stanley anyways.
"We knew instantly that Stanley was going to be our newest family member," she told NBC Chicago in an email. "We fell in love with Stanley Pup right away. Her happiness is contagious and we couldn't stop smiling once we got her home. We couldn't wait to make it official and become her forever family."
Slivka says she doesn't plan on changing Stanley's name, saying it's a perfect fit for the pup.
"She knows and responds to her name so I think she's going to remain a huge Blackhawks fan," Slivka said.