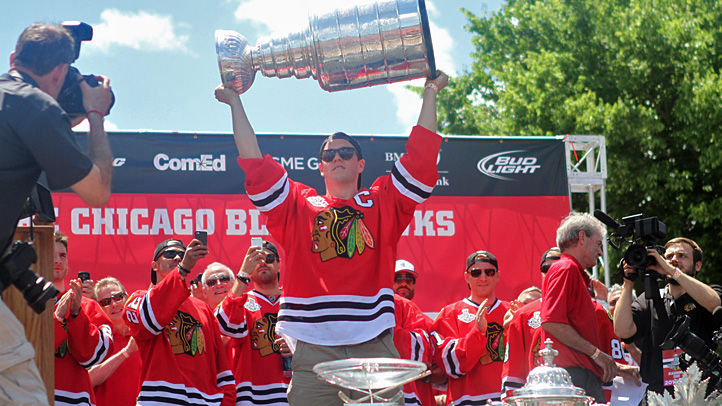 For those fans who watched the Stanley Cup playoffs on NBC and NBCSN last spring, there was one song that was undoubtedly lodged into their brains: "My Songs Know What You Did in the Dark" by Chicago-based Fall Out Boy.
The ubiquitous tune, which has inspired countless references to "lighting mups" among those fans active on Twitter, has pretty much ensured that Chicago Blackhawks fans will always think of the team's Cup victory whenever the song appears on radio or TV.
The worlds of Fall Out Boy and the Blackhawks collided yet again on Friday night, when Danny Wirtz, son of Blackhawks owner Rocky Wirtz, brought the Stanley Cup to the band's show at Riot Fest. Stanley Cup guardian Philip Pritchard has the picture evidence:
Danny Wirtz brings#StanleyCup to Riot Fest to see Fall Out Boy @HockeyHallFame @NHL @nhlblackhawks @KellyHockeyHall pic.twitter.com/9xy55h3jJq — Philip Pritchard (@keeperofthecup) September 14, 2013
Other fans got to snap pictures of the chalice as well:
fall out boy casually bringing out the Stanley Cup during their encore pic.twitter.com/B3bYwcCQqt — kennedy dibble (@kennedydibble) September 14, 2013
Missed out on seeing the Cup so far? It will reportedly be at Soldier Field on Sunday when the Chicago Bears take on the Minnesota Vikings. It will also be in the house at the United Center on Monday when the Hawks host their annual Training Camp Festival. Finally, it will be available for public viewing and a photo opportunity for fans at Millenium Park on Wednesday morning.