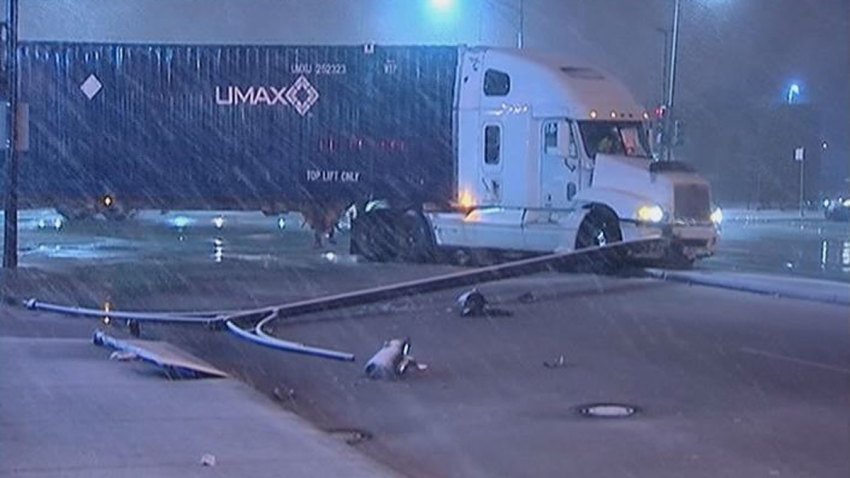 Officials at Chicago's O'Hare International Airport just before 7 a.m. reported 3.6 inches of new snow on the ground, officially making this season the city's third snowiest on record since 1884.
Our official snow tally -- so far -- is 79.1 inches. The second snowiest seasonal record is just 3.2 inches away. That was the 82.3 inches recorded in 1977-78.

The snowiest season on record, with a whopping 89.7 inches, was the season of 1978-79.

A Winter Storm Warning that went into effect at 10 p.m. Tuesday continued through 1 p.m. Wednesday. Areas to the north and the far west of Chicago were under a Winter Weather Advisory while communities to the south were under a Winter Storm Watch.
The precipitation began Tuesday evening as light rain showers, but falling temperatures switched the rain over to snow.

By 6:30 a.m., Joliet reported 6.2 inches of snow. Palos Park and Crest Hill both checked in with 6 inches of snow, while Schererville, Lisle and Hinsdale reported 5.2 inches, 5 inches and 4.5 inches, respectively.

An hour earlier, Midway International Airport recorded 5.2 inches of snow. Nearly 5 inches was recorded in Oak Forest while Romeoville and North Aurora reported 4.1 inches and 4 inches respectively.

Meteorologists use several weather models to put together their forecast. One model Monday night and Tuesday morning projected as much as 16 inches of snow. The general consensus through the early parts of the week, however, put expected snowfall between 1 and 8 inches.

More than 45 weather-related crashes and reports of cars in ditches were logged from midnight until 4:20 a.m. in the four Illinois State Police districts which cover the city and area suburbs, state police said. No serious injuries were reported in any of the crashes.

In the city, officials with the Department of Streets & Sanitation said the full fleet of 280 snow plows and salt spreaders were out on the main streets and Lake Shore Drive. Those were redeployed to neighborhood streets shortly after 11 a.m.
The Illinois Department of Transportation prepped 1,750 snow plows while the Illinois State Toll Highway Authority prepped 182 plows.

At 5 a.m., no delays were yet reported on the Metra commuter rail lines, though the agency did issue a Winter Weather Alert and advised customers that delays or service interruptions were possible. Those delays started popping up at around 7 a.m.

The Chicago Transit Authority reported no weather-related service issues with buses or trains as of 6 a.m.

Chicago's airports reported more than 500 canceled flights and persistent delays. Delays continued as the storm system moved eastward.

Officials with Commonwealth Edison said about 48,000 customers were without power Wednesday due to the snow and high winds. NBC Chicago viewers reported power outages in Elmwood Park and Glen Ellyn, Ill., as well as Lake Station, Hobart, and Hebron, Ind.

The system moved out of the area by noon midday, leaving sunny but windy conditions and temperatures in the mid-20s. The rest of the week improves after Wednesday, with no more snow in the forecast and temperatures in the upper 40s on Friday.

March 20 marks the official first day of spring.