Well here's where I get stumped.
I don't know what to expect of Rostislav Olesz. I don't think the Hawks know either. They say they targeted him in the Brian Campbell deal, but it's hard to believe you'd target a guy making more than $3 million who's never scored 14 goals in a year and is coming off knee surgery.

But then again, you can't just say we were taking some salary back in dumping a salary we didn't want any more. It tends to hurt the player's confidence and all.
But at camp, the Hawks are saying all the right things. They're saying he's shown a nice chemistry with Jonathan Toews (who doesn't?). They're saying they like his size. They're saying he's doing a good job getting in front of the net.

You can actually cut and paste these quotes from some other player in a previous camp, and just replace the name.
But here's the thing: Olesz will probably be here. Maybe it's because of that salary, but one would have to wonder long and hard about how much stomach Rocky Wirtz is going to have to pay a guy $3 million to live and work in Rockford (though that probably wouldn't be enough for me to do so), when he's already paying Cristobal Huet $5 million to ski in the Alps.

Then again, you're paying that money either way.
As for what Olesz does on the ice, there is some scoring touch. The most promising season though was three ago, when he had 14 goals and 26 points in just 54 games. But he hasn't moved on from that, either through injury, indifference, or just sinking in the bog that is Florida Panthers hockey.

It's probably the first option.

Olesz played parts of six seasons as a Cat, but only played more than three-quarters of a season twice. Don't expect him to answer the bell every night, especially coming off surgery.
What he has done is show a willingness to engage along the boards and battle, more so than Viktor Stalberg. He's also shown a more lethal finish than Stalberg, who he's most directly competing with for ice-time. But he doesn't have Vik's speed, especially after surgery. And he doesn't have the versatility, either.

He's probably going to get a look on the Top 6 at the beginning of the year, where the Hawks hope is crease-crashing habits pay dividends. We'll just have to wait and see.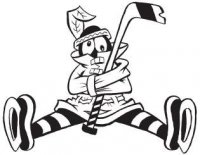 Sam Fels is the proprietor of The Committed Indian, an unofficial program for the Blackhawks. You may have seen him hocking the magazine outside the United Center at Gate 3. The program is also available for purchase online. Fels is a lifelong 'Hawks fan and he also writes for Second City Hockey .