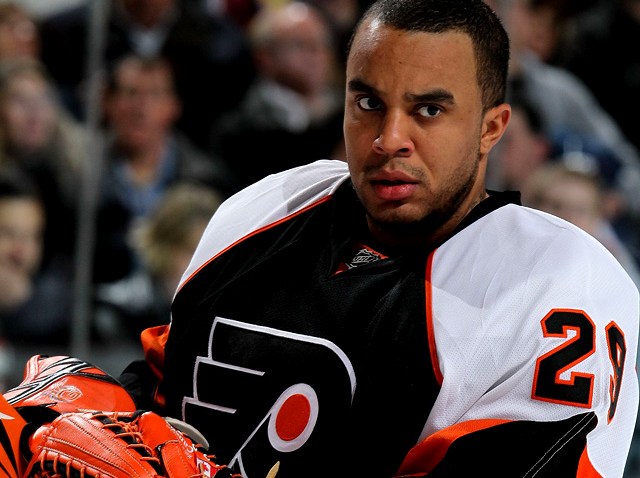 We kick off the big season preview here at Madhouse by starting the same way we finished last season. Starting from the goal line out, we'll take a look at every player who might spend some time in a Hawks sweater this year and try and guess what they might provide. It's not an original process, but it's effective. And we'll start with the guy who's here on a tryout for the backup goalie job, Ray Emery.
Though you'd think he's on slightly more than a tryout if they're trotting him out at Comiskey Park on Blackhawks Night there. But that's wild speculation on something silly, and no blog has ever, ever done that. Totally ridiculous notion.
It wasn't so long ago, and not totally out of the realm of possibility that it would have been Ray Emery that the Hawks were trying to beat for the Cup in 2010. Because Emery was the Flyers starting goalie that year. He wasn't great, but part of that can probably be attributed to the degenerative hip condition that ended that season, and looked likely to end his career. Apparently hips are pretty important to goalies. Who knew?
However, Emery went into extensive rehab, and earned himself a contract with the Anaheim Ducks last year after their goalie, Jonas Hiller, came down with vertigo and they couldn't stop him from wandering the Anaheim parking lots. And for 10 games, Emery was stellar. A save-percentage of .926 and goals-against of 2.26.
There are a couple caveats here, though. One, it was only ten games. Two, it came behind an Anaheim defense that went into lockdown mode after Hiller's absence, and Emery only saw about 27 shots per game. Third, it all came apart at the seams in the playoffs where Emery's save-percentage didn't even crack .897, and that was against the decidedly pop-gun Nashville Predators. However, the argument should be made that if the Hawks are counting on Emery in the playoffs, they're already in far too much trouble.
Emery has the edge over rookie Alex Salak simply because of that word "rookie". The Hawks may not be comfortable being one Corey Crawford muscle going "twang!" from counting on an untested neophyte who only has one year at the AHL-level under his belt. Emery has been in the league for parts of five seasons.
Does that mean he's a known commodity? Hardly. Emery had a stellar season in his first as a starter in Ottawa when they went to the Final. But he was awful the year after that, and earned himself a ticket out of town. In fact it was a ticket all the way to Russia. That's what happens when you have subpar performance combined with a prickly personality, which Emery most certainly does. He was off and on with Philly, and in a small sample size more than decent with Anaheim. It's a mixed bag.
When on, Emery is extremely athletic. He'll make some highlight reel saves. But when he's not, he'll end up wildly out of position, and also might let in the occasional soft goal. Maybe the years and his travels and struggles have matured him, but Emery has been known to be a bad soldier at times. Being on a Cup contender for the first time in five years should alleviate some of that.
But Emery won't be handed this job. He's going to have to have a decent camp, because the Hawks are awfully high on Alex Salak, who's been here a while now working out. He clearly does not want to go to Rockford, and staying out of Rockford is up there in motivation tactics, right next to staying out of prison.
But if Emery can be close to what he was in Anaheim during camp, the Hawks will most likely opt for some seasoning on Salak. If Emery and Salak are both good, Emery becomes a chip you can part with when other starting goalies around the league start getting hurt.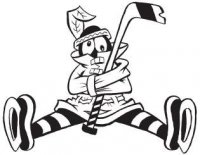 Sam Fels is the proprietor of The Committed Indian, an unofficial program for the Blackhawks. You may have seen him hocking the magazine outside the United Center at Gate 3. The program is also available for purchase online. Fels is a lifelong 'Hawks fan and he also writes for Second City Hockey .