There are a few things the Hawks were lacking last year, both on the ice and the places fans don't see. Andrew Brunette was brought in to solve a lot of them.
On the ice, the Hawks lacked almost any net presence. With Andrew Ladd and Dustin Byfuglien gone (though Buff barely bothered either), the Hawks had next to no one who could satisfy themselves by merely setting up a campfire and baking some s'mores right in the other team's crease. This made it all too easy to defend the Hawks at times, though their array of talent still saw them score enough from the outside.
Brunette solves some of this. He's a big body who's made more than a decade of an NHL living below the circles. Brunette also comes with very soft hands for a guy this size -- and this slow -- so not only does he get his fair share of tips and deflections, he's also adept at making plays in these tight quarters. He can fool a goalie with a move or open up space for a tap-in for a teammate on the other side. This is a weapon the Hawks didn't have last year.
Off the ice, the Hawks lacked a veteran voice, or a few of them, who could keep the kids' heads on straight at times when they badly needed it. Is Brunette that? Probably. But what he is is a guy who's played parts of 14 years in the league who has never sniffed a winner. Seriously, Brunette has been on one team in his career to get past the second round. This is his last chance, and only chance on a team that will be considered a contender for it all from the get-go. So it stands to reason he may not take kindly to some players more than 10 years his junior coasting at times and possibly costing him a chance at something he's been chasing since they were still trying to figure out how to steal CD's from Tower Records.
There are some concerns. To say Brunette is slow would be calling Minka Kelly attractive. The dude can't move. Honestly, when you see him you'll be tempted to get out there and race him yourself. So while his advanced IQ will usually get him to the right spot, there has to be questions if he can keep pace in the tempo the Hawks want to play at. Second, he's 38, and you wonder at what point that catches up. But Brunette has been remarkably consistent, managing over 18 goals in eight of the past nine seasons. And that was for teams who couldn't score a beer in a brewery. By just being around this amount of talent, his goal-total should rise.
The best thing about this signing is there's almost no risk. You pretty much know exactly what you're getting from Brunette, and the floor and ceiling on this are pretty close together. He certainly won't let anyone down with effort.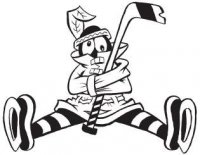 Sam Fels is the proprietor of The Committed Indian, an unofficial program for the Blackhawks. You may have seen him hocking the magazine outside the United Center at Gate 3. The program is also available for purchase online. Fels is a lifelong 'Hawks fan and he also writes for Second City Hockey .