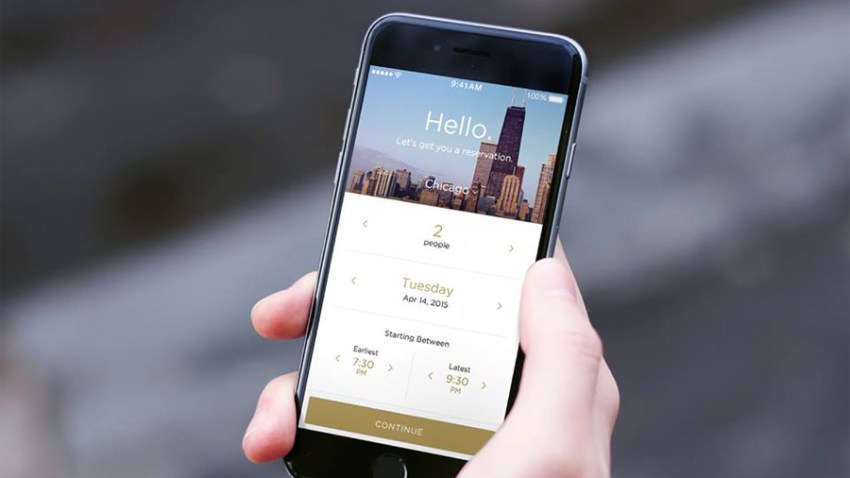 Dinner reservations are at your fingertips.
Reserve – a New York-based, 6-month-old startup – officially launched in Chicago Tuesday, adding to the trendy restaurant reservations businesses in the city.
The service charges diners a $5 concierge fee but is free to restaurants, unlike Chicago-founded app OpenTable which charges restaurants $1 per seated guest. According to ChicagoInno, actors Jared Leto and Jon Favreau as well as musician Will.i.am. are early investors in the app.
The brand new app already boasts more than 20 local restaurants in its database.
"We're thrilled to announce that starting today, hungry Chicagoans can now use Reserve at more than 20 amazing restaurants in the Windy City," Reserve CEO and co-founder Greg Hong said in a statement. "Whether you're celebrating date night at Michelin-starred Sepia or closing a deal at The Kitchen, Reserve, your dining concierge, is here to help."
Users open the app, give a few details and then choose from a curated list of restaurants. Details about the restaurant's ambiance and menu are also available.
The app gives users recommendations of other places to try and the option to privately send comments and suggestions to restaurants.
Users no longer have to fuss with picking up the tab at the end of the night. Along with Reserve's $5 concierge fee, a user's total bill including tax and tip are automatically charged to the card the app has on file.
Diners who cancel within two hours of the reservation are charged a $10 fee while no-shows incur a $25 fee that goes directly to the restaurant.
Restaurants partnering with the app are listed below:
• Acanto
• Ani
• Arami
• Bin 36
• Boarding House
• Celeste
• Dusek's Board and Beer
• Formento's
• Geja's Café
• Homestead on the Roof
• Le Colonial
• Lula Café
• Mercadito
• Nightwood
• Promontory
• Sepia
• Tippling Hall
• The Gage
• The Dawson
• The Kitchen
• Trencherman