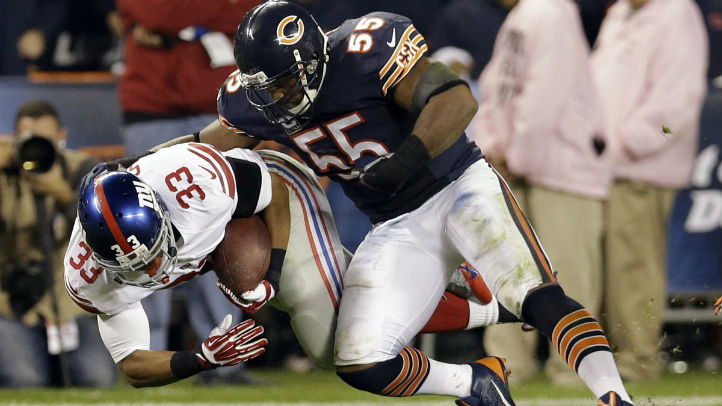 Offense: B
On Thursday night, the Chicago Bears' offense was once again a tale of occasional brilliance coupled with occasional head-scratching silliness, even as they won a hard fought game against the New York Giants by a score of 27-21.
In the game, the Bears made some interesting decisions, including one on the first drive of the game to go for it on fourth down deep in Giants territory. The gamble didn't pay off, and while most Chicago scribes didn't think that the team made the right decision, it was good to actually see Marc Trestman go for an aggressive play call early in the game, something that he hasn't exactly been doing in recent weeks.
After that play, the offense really settled into a groove. They ended up tossing two touchdown passes to Brandon Marshall, and they took full advantage of the zone defense that the Giants were employing against them. Marshall was finding open seams in the coverage, and to quarterback Jay Cutler's credit, he was finding his receiver in those openings, and took care of the ball much better than he did in Week 4 or early in Week 5.
While the Bears' offense looked like a well-oiled machine in the first half, they seemed to run out of steam in the second half. Whether it was because they had a big lead or because they tried to establish more of a run game, the fact remains that they were only able to scratch out three points in the entire second half, and those game on the opening drive of the third quarter.
Simply put, they need to stretch out their offensive production more than they have been, because it's been a pattern that they have one productive half and one where they seem to tune out. The second halves against Cincinnati, Minnesota, Detroit, and New Orleans were productive, as were their first halves against Pittsburgh and New York, but it's the lack of scoring in the other halves of games that is becoming worrisome.
Defense: D+
We already beat the defense up pretty well in our Grizzly Details column about their complete lack of tackling ability in the game on Thursday, so we'll instead focus on another area of concern: their inability to get any backfield penetration.
Yes, it's a lot harder to get into the backfield with just the front four rushers if the line is missing guys like Henry Melton and Stephen Paea, but the fact of the matter is that guys like Julius Peppers still need to be able to get at least occasional pressure on the quarterback without the aid of a linebacker or two coming in on a blitz. Peppers still looks a step slow, and has not been quick to adjust when he's been beaten on his initial move all season, and Thursday night provided several more examples of that lack of second-chance push that has become his calling card this year.
As for Shea McClellin, Trestman called him a "work in progress" after the game, and that might as well be a kiss of death. McClellin has shown zero improvement from his early season woes on the pass rush, and his run defense is arguably the worst of any defensive end in the league. He shares the same problem that Peppers does, with no counter-move if his initial strike is thwarted, and what makes matters worse is that he doesn't have an initial move that works other than straight ahead speed, which works as well in the NFL as a half court shot works in the NBA.
When you have defensive ends struggling like those two, and you have a group of safeties that still can't figure out how to help out over the top on passing plays (looking at you Major Wright and Chris Conte), then you have a recipe for a lot of shootouts on offense, and with the Bears' issues in scoring in more than one half of a game, that could very well be a recipe for disaster.
Special Teams: B-
Getting a long field goal from Robbie Gould is always great, and the Bears' punting game with Adam Podlesh were both massively improved in the game, but there always seem to be the one little mistake that is holding this special teams unit back from being as special as it was under Dave Toub.
In the second quarter, the Bears were kicking off after Marshall's second TD gave them the 21-14 lead. For some reason, Gould decided that he was going to hit a bit of a squib kick, and the ensuing 48-yard kick return not only set the Giants up with great field position, but it also caused Devin Hester and Gould to get into a shouting match on the Bears' sideline.
It would be easy to just chalk up the shouting match as something that happens in the course of an NFL game, but that assumption would miss the larger point, which is that the special teams unit is getting frustrated with its inability to limit mistakes. Whether it was Cordarrelle Patterson's kickoff return for a touchdown in Week 2, or Podlesh's bad punting in Week 4, this team always seems to find a way to have at least one special teams gaffe a week, and it's clearly starting to wear on the players.
Game Tweets: C+
Just like the Bears and Giants, Bears fans didn't seem to be in top form because of the short week, but at the very least, we got a new nickname for Shea McClellin in the process, thanks to radio host (and host of NBC 5's Sports Sunday) Laurence Holmes:
I saw #IHOP RT @colinpnelson: @LaurenceWHolmes Wow, rewind that play and watch what happened to Shea — Laurence Holmes (@LaurenceWHolmes) October 11, 2013