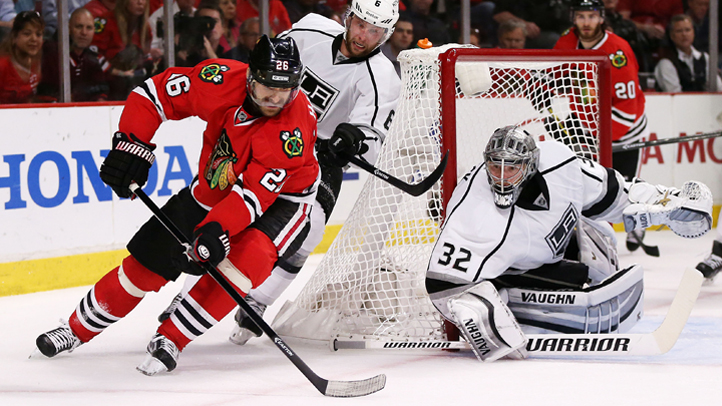 The Chicago Blackhawks have a few decisions to make when it comes to assembling their roster for next season, but according to veteran reporter Bob McKenzie of TSN, at least one decision has already been made:
CHI has told Michal Handzus it is going in a different direction. Big veteran Slovak centre will be going to UFA. #TSN — Bob McKenzie (@TSNBobMcKenzie) June 16, 2014
Michal Handzus, who was acquired by the Blackhawks from the San Jose Sharks during their 2013 season in exchange for a draft pick, ended up playing in 70 regular season games for the Blackhawks, scoring five goals and dishing out 17 assists. His place in the lineup fluctuated wildly from second line center with Patrick Kane to a guy who mainly just played penalty killing minutes when he started slowing down late in the season.
That slowdown is perhaps the impetus for his departure from the Windy City, but GM Stan Bowman is clearly going to be looking for someone else to step up and fill that role as the second line center that head coach Joel Quenneville tried to put Handzus in. Whether that's an in-house solution like Andrew Shaw or Teuvo Teravainen, or an outside source of help from a guy like Ryan Kesler or Jason Spezza, the Hawks will be looking for someone to make the jump into a bigger role next season, and they will need to replace Handzus' penalty killing duties as well.
If one were to guess at this point what will be done to replace Handzus, the smart money would be on Shaw replacing him on the second line as a temporary fix (Marcus Kruger could also see some time in the role, but the Hawks prefer him to play a bottom six role and emphasize his prowess on the penalty kill). On the PK unit, Ben Smith will probably get the first crack at playing alongside Kruger, with Jonathan Toews and Marian Hossa likely comprising the other group. Brandon Saad could also get a look, but with a potential full-time promotion to top six forward minutes Quenneville and company may want him to focus on his even strength and power play responsibilities.
At any rate, Handzus proved to be a useful player to the Hawks during their Cup run in 2013, and even though he didn't finish his career with the team with the same kind of flash, he will be missed as a veteran presence in the locker room.