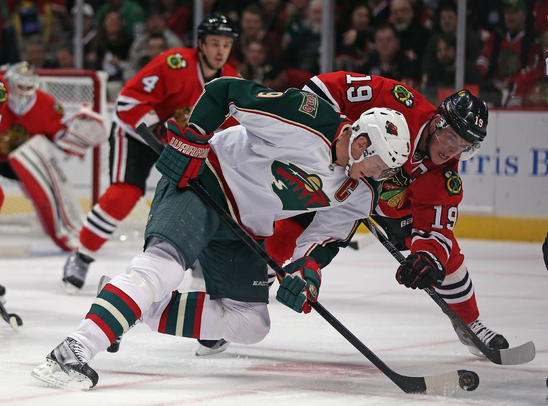 NHL realignment became official on Thursday, when the league's Board of Governors voted to approve the restructuring that will send the Detroit Red Wings East, and leave the Chicago Blackhawks with only two games a year against their storied rivals.
The new division in which the Hawks will reside comprises teams mostly from the Central Time Zone (with the exception of the Colorado Avalanche), and will include the Dallas Stars, Minnesota Wild, Nashville Predators, St. Louis Blues, and Winnipeg Jets.
The decision to separate the Hawks and Wings has come with a great deal of controversy, which we discussed on the blog last week, but there are several positives to glean from it. The main one is that the Hawks will get to further develop rivalries with the Blues and Predators, and they will also get to continue playing three games a year against the Vancouver Canucks, whom they have developed a hostile rivalry with in the past several years.
In addition, Hawks fans will get to see every NHL team come through the United Center for the first time since 1998. That means we will (hopefully) finally get to see a Jonathan Toews vs. Sidney Crosby regular season tilt in Chicago, and also means that Original Six games against the Maple Leafs, Canadiens, Bruins, and Rangers will become more commonplace in the Windy City.
The uneven conferences, however (the West has 14 teams, the East has 16), means that the playoff picture gets a bit muddier starting next year. Dan Rosen of NHL.com attempted to sort out any confusion with his explanation on the website:
"The top three teams in each division will make-up the first 12 teams of the playoffs. The remaining four spots will be filled by the next two highest-placed finishers in each conference, based on regular season points and regardless of division. It will be possible, then, for one division to send five teams to the postseason while the other sends three."
Judging by a quick look at the divisional lineup, it would appear that the Hawks will be the team to beat for a while in their new division. The Blues are still a very talented group, but the Jets and Avalanche have struggled mightily this year, so the quality of play will be hurt a bit if they can't turn things around.
What could turn into an interesting rivalry could be the one between the Hawks and the Wild. Back when the Stars were still in Minnesota, Chicago had an intense rivalry with them, and it would be cool to see Minnesota and Chicago gain a similar level of vitriol.
The realignment will be re-examined by the NHLPA after the 2014-15 campaign, so those hoping for a reunion of the Hawks and Red Wings would have to wait until at least then for the two teams to renew more frequent hostilities.