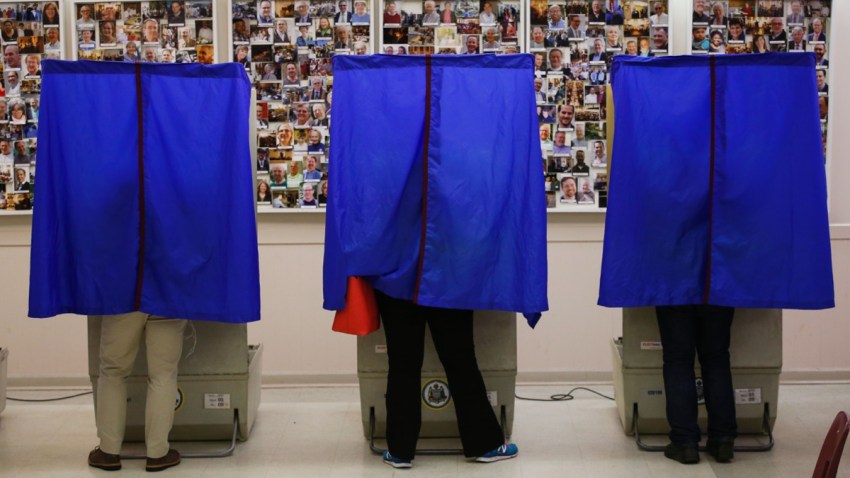 In the race for Illinois comptroller, incumbent Republican Leslie Munger faces a tough bid for re-election against Chicago City Clerk Susana Mendoza, as well as added competition from Libertarian Party candidate Claire Ball and Green Party Candidate Tim Curtin.
Munger, who was sworn in as state comptroller in 2015 after being appointed by Gov. Bruce Rauner, is a proponent of fiscal discipline and responsibility and has worked to raise awareness of the consequences of the state's reckless spending. Among other things, she has called for a new approach to finances and a balanced state budget
Munger has worked through the state's year-long budget impasse, prioritizing payments for human services and small businesses. She also instituted a policy wherein state elected officials, including herself, are forced to wait in line for paychecks along with employers, hospitals, schools and others. According to her campaign, she has cut her office budget by 10 percent, returning more than $1 million to taxpayers.
According to her campaign, if the comptroller is reelected, Munger promises to serve as an independent voice in Springfield, advocating for fiscal responsibility and a balanced budget.
Additionally, she looks to bring relief to human services and small businesses suffering hardship to state payment delays. According to the comptroller's website, the state's bill backlog currently exceeds $8 billion. She has also vowed to lead the state government to a new level of transparency to ensure that financial information is available and accessible to taxpayers.
Munger's primary opponent in her bid for re-election is Mendoza. The competition is being billed as a proxy war in the power struggle between Rauner and House Speaker Mike Madigan, who Mendoza has called a mentor.
"The contrast between Munger and her opponent is striking," Munger spokesman Phillip Rodriguez said in a statement. "Clerk Mendoza has spent her career on the State of Illinois and City of Chicago payrolls voting for the very unbalanced budgets, tax increases and pension holidays that have devastated out state finances."
"Comptroller Munger has 25 years of private sector experience coupled with a long history as a volunteer and board member for an organization serving the most vulnerable," Rodriguez added.
Before becoming the City Clerk of Chicago, Mendoza served six terms as a Democratic member of the Illinois House of Representatives from 2001 to 2011.
Mendoza, the daughter of Mexican immigrants, is running for state comptroller because she believes "the middle class is under attack" from Rauner and Munger. Additionally, she feels Rauner's main priorities are destroying unions and taking away the social safety net that provides opportunities for Illinois families to lift themselves out of poverty.
Mendoza claims Munger "will not do anything" without Rauner's approval.
According to Mendoza, she personally knows the struggles of dealing with aging parents and understands the issues parents face providing early intervention services to their children. She has a son who requires speech therapy.
"I am running to be the next Illinois Comptroller because I understand the challenges facing middle class Illinoisans, parents and people with aging parents," Mendoza said in a statement. "I believe that I will be successful doing so. I have ten years of legislative experience as a representative of the 1st District in the Illinois House, and 5 years as the Chicago City Clerk, running the second largest executive management office in the city."
"I not only know what it takes to get the job done, but also I have two older brothers who taught me how to stand up to bullies, and I am not afraid of this one," she added.
Ball lost a race for a board of trustee position at the College of DuPage in 2015. She claims she was armed only with "an accounting background and independent mindset."
According to Ball, the most important issues that she's focused on are timely financial reporting, transparency in budgeting, clarity in decision making to outline what order vendors will be paid by the state, and independency in accounting.
"We need fiscal responsibility, integrity and transparency in all levels of state government," Ball said in a statement. "Help me wrest the office of Comptroller out of the political pit of disregard it has been trapped in and bring back the respect deserved for the role of managing our state fund."
Curtin, who considers himself "the only candidate running for comptroller that is a progressive and independent," supports a graduated income tax for the state to create additional revenue.
Additionally, the former union member and organizer supports a tax on trading at the Chicago Board of Trade Options and the Chicago Mercantile Exchange that would only be paid by traders. According to Curtin, new revenue of $12 billion a year could be raised.
"There is no reasonable alternative to continuing to violate our constitution by not balancing the budget, and we must begin again the process of more funding for public education and much needed social services throughout our state," Curtin said in a statement.
"My priority as comptroller would be an honest and frank discussion with the people of our state as to the financial crisis and what can be done about it," he added. "There is no state budget because both Democrats and Republicans refuse to settle their differences and act in the public interest."