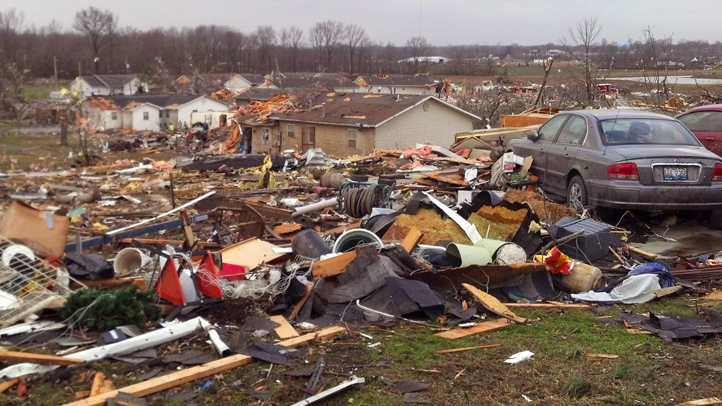 Gov. Pat Quinn activated Illinois' emergency operations center following severe storms and tornadoes in downstate Harrisburg and other southern Illinois areas.

The storms killed at least six people in Illinois and injured more than 100 people.

"Those men and women who went to bed and lost their lives in this tornado, we pray for their souls and we pray for their families. I think it's important for us, as a family in Illinois, to come together and honor their lives and mourn their loss," he said during a visit to Harrisburg Wednesday to survey the damage.

He said the state is prepared to offer assistance to the affected areas, adding that he spoke with The White House and was reminded that federal officials are also at the ready.

Illinois emergency management officials told the Associated Press the storm caused heavy damage in Saline and Gallatin counties and more than 12,000 Ameren Illinois customers have lost power.

The Illinois Emergency Management Agency and other state agencies are assessing the impact of the storms, Quinn said. They're coordinating with local emergency response officials to determine whether state resources are needed.

So far there have been no requests for state help, but Quinn said state officials are ready. Assets from fire, law enforcement and emergency management organizations already were deployed.

The state emergency operations center will remain activated as long as necessary, Quinn said.

According to the National Weather Service, severe weather is still on the radar for southern parts of the state.

The office of Sen. Mark Kirk, still hospitalized after a stroke, offered their thoughts and prayers to everyone affected by the storms.

"The Office of Senator Kirk expresses deep appreciation and tremendous gratitude for the hundreds of emergency response personnel and volunteers who have taken rescue and cleanup efforts upon themselves," Kirk's office said in a statement. "We are working closely with the members of the Illinois delegation, will be following all future developments, and stand ready to do anything we can to assist in this difficult time."