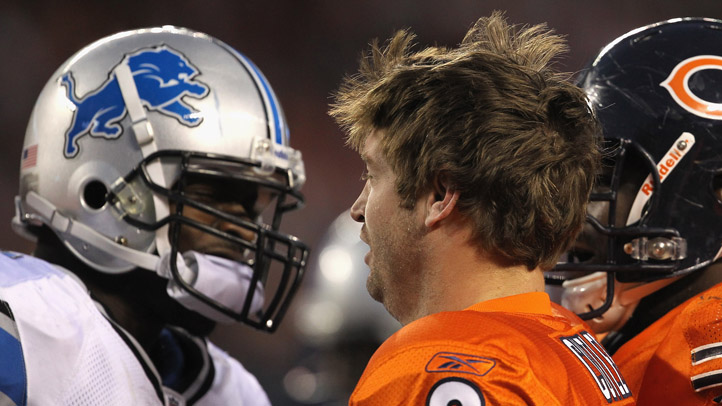 After way too many days without Bears football, Chicago is back for a Monday Night Football tilt with the Detroit Lions. Here's what you need to know before kickoff at Soldier Field tonight:

Where is the love? There is plenty of animosity between the Bears and the Lions these days. Their physical games last season sometimes went outside the bounds, and the Bears are looking forward to playing them again. Watch to see if the chippy play turns into something downright dirty.

Can Stafford break the streak? Matthew Stafford has been on the wrong end of a dubious streak. The Lions quarterback has not yet connected with superstar wide receiver Calvin Johnson in the end zone. The Bears will aim to keep that streak going.

Walking wounded: Despite the fact that the Bears and Lions are both coming off a bye week, the teams are still dealing with injury. Devin Hester missed practice last week with a quad injury but is expected to play. On Detroit's side, three defensive linemen were limited in practice this week. Cliff Avril and Ronnell Lewis are expected to play, but Corey Williams is questionable.

Plenty of work for the secondary: The Lions have plenty of playmakers on offense. With Johnson, Nate Burleson and Titus Young ready for Stafford passes, Charles Tillman and Co. will have to be on their toes to keep the Lions from making big gains. They also have to be ready for Stafford to make mistakes and to take advantage by forcing turnovers.

Stopping the Lions Defensive Line: The names Cliff Avril, Ndamukong Suh and Kyle Vanden Bosch have been part of the Bears' nightmares for a few years. There's no reason to think that these nightmares won't recur tonight. Though the Bears' offensive line has improved, the Lions will give them their biggest test since the Packers. Remember how they did in that one?

Weather could play a part: With the forecast calling for scattered thunderstorms at kickoff time, the Lions and Bears may have to deal with two problems. First, a wet field that favors the running game. Secondly, thunder and lightning could mean they have to stop the game and start again, so both teams may need to figure out how to play cold.
Copyright FREEL - NBC Local Media