Police are asking the public to help identify a person and vehicle in relation to a homicide that happened in Chicago's Chatham neighborhood in June.
The incident occurred at 15 W. 79th St. on June 15 at approximately 3:19 p.m., according to police.
The man could be wearing a green hooded sweater with a white t-shirt underneath, along with dark-colored pants and white shoes, police said. He could also be the driver or passenger of a dark-colored SUV.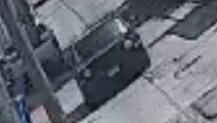 Officials warned that the person is likely armed with a handgun.
Anyone with information about the incident or suspect is asked to call Area Two Detectives at (312) 747-8271 or submit an anonymous tip to cpdtip.com.