Police are searching for a man in connection with the disappearance of a Gary woman and her young nephew.
Diamond Bynum, 21, disappeared with 2-year-old King Walker from her home earlier this month.
Police hope to question Terrance D. Williams, also known as "Dollar," about the disappearance, but they did not specify why.
Indiana search crews in Lake and Porter counties have been searching for the pair, who authorities said were last spotted at a McDonald's on Aug. 3 and not seen since.
Canine units briefly picked up on the trace of them but then lost it, police said.
"It's been so long, we thought we'd have this resolved by now," Eugene Bynum Jr., Diamond's father and grandfather of the toddler, told NBC Chicago. "[But we're] hopeful because we have so much help now. We just need the people of Gary to help us."
The missing woman, who family members say is mentally challenged, has been without her medication.
"Diamond's medication is very serious," Eugene Bynum added. "It affects her moods. If she doesn't take it, she won't think right at all … It just won't be very pretty sight. She may harm herself. I'm not sure."
Lahsann Walker, Diamond's mother, said her daughter has an eating disorder where she doesn't know when she is full.
The family says they worry about how she is possibly taking care of herself and her beloved nephew on her own.
"This is the longest I've ever been away from King," said the boy's mother, Ariana Walker, as she wiped away tears. "I am trying to stay strong, but I don't even know what to do no more … I can't deal with it. It's too much."
Gary police have expanded their search to a grid covering several miles concentrating on the city's West Side, near Diamond's Matthews Street home.
"The more they're gone, the more I don't know what happened," a distraught Eugene Bynum said. "Diamond knows my number, she should've used it. We're very worried now, extremely worried."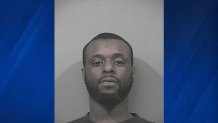 Williams is described as being 5 feet, 9 inches tall, about 145 pounds, with black hair and brown eyes. He is a Gary resident and is known to frequent the 2200 block of Georgia Street, police said.
Anyone with information is asked to call (219) 881-1260.
A GoFundMe page has been set up to aid in the search for Diamond Bynum and King Walker. You can donate to the search effort here.