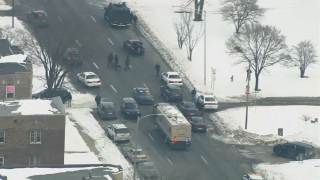 One person was apprehended and a second was being sought by law enforcement after a police officer was shot Monday afternoon in Gary, police said.
At approximately 12:57 p.m., officers with the Gary Police Department were "dealing with parking violations" near Fifth Avenue and Lincoln Street when an officer reported shots were fired in front of him, GPD Chief Brian Evans said.
Sgt. William Fazekas, who was in the area at the time, observed a vehicle strike a second vehicle and then activated his emergency lights and attempted to pull the first vehicle over, authorities said. At that point, one of the suspects opened fire, striking the officer in the right shoulder, police said.
One suspect was taken into custody, police said. A second person of interest hadn't been apprehended as of Monday evening.
Fazekas, a 32-year veteran of the force, was initially taken to an area hospital and later transferred to a hospital in Chicago. He was in stable condition and with family late Monday afternoon, Evans said.
Gary Mayor Jerome Prince, who met with the officer at the hospital, said he "appeared to be doing as well as could be expected in that particular situation."
Prince added he was pleased by the response of Fazekas and the other officers who "place their selves and their lives in danger every single day."
"He is certainly a veteran officer who has proven himself to be committed to the success and the safety of our city, and we're certainly grateful to have him," the mayor said.
The circumstances of the shooting remained under investigation Monday evening.