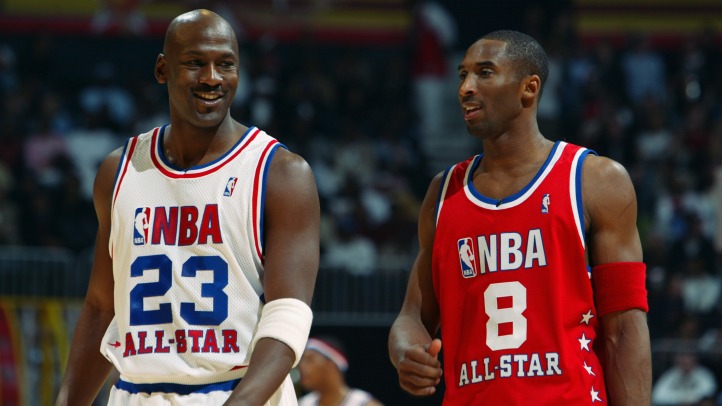 The comparisons between Michael Jordan and Kobe Bryant have been discussed ad nauseum.
On the surface, the Lakers superstar is the closest thing we've seen to Jordan in terms of style of play, confidence and swagger.
MJ won six rings with the Chicago Bulls in the 90's and Kobe won five titles with Los Angeles between 2000 and 2010. But that's about where the comparisons end according to the man who knows the two superstars best, Phil Jackson.
Jordan and Bryant were responsible for all 11 of Jackson's NBA coaching championships, but says the two players have more differences than similarities in his new book, 'Eleven Rings: The Soul of Success.'
Here's a few excerpts from the book, courtesy of the Los Angeles Times:
On their personalities:
"Michael was more charismatic and gregarious than Kobe. He loved hanging out with his teammates and security guards, playing cards, smoking cigars, and joking around. Kobe is different. He was reserved as a teenager, in part because he was younger than the other players and hadn't developed strong social skills in college.
"When Kobe first joined the Lakers, he avoided fraternizing with his teammates. But his inclination to keep to himself shifted as he grew older. Increasingly, Kobe put more energy into getting to know the other players, especially when the team was on the road."
On their styles of play:
"Michael was more likely to break through his attackers with power and strength, while Kobe often tries to finesse his way through mass pileups. Michael was stronger, with bigger shoulders and a sturdier frame. He also had large hands that allowed him to control the ball better and make subtle fakes.
"Jordan was also more naturally inclined to let the game come to him and not overplay his hand, whereas Kobe tends to force the action, especially when the game isn't going his way. When his shot is off, Kobe will pound away relentlessly until his luck turns. Michael, on the other hand, would shift his attention to defense or passing or setting screens to help the team win the game."
On their abilities as a leader:
"One of the biggest differences between the two stars from my perspective was Michael's superior skills as a leader. Though at times he could be hard on his teammates, Michael was masterful at controlling the emotional climate of the team with the power of his presence. Kobe had a long way to go before he could make that claim. He talked a good game, but he'd yet to experience the cold truth of leadership in his bones, as Michael had.
"Bryant gradually evolved during the 2008-09 championship season, when the Lakers successfully retooled with a more finessed look with Pau Gasol instead of the brute force of the Shaquille O'Neal teams. If Bryant talked to teammates in his earlier Lakers years, it was usually, "Give me the damn ball." But then Kobe started to shift. He embraced the team and his teammates, calling them up when we were on the road and inviting them out to dinner. It was as if the other players were now his partners, not his personal spear-carriers."
Of course there are sure to be other great nuggets in the book as it is reportedly more about Kobe than Jordan, but there's no question that Phil Jackson appreciated the greatness of both players, and how could he not? Each helped make him the man who finished the game with the most titles of any head coach in NBA history.
Normal 0 false false false EN-US JA X-NONE /* Style Definitions */ table.MsoNormalTable {mso-style-name:"Table Normal"; mso-tstyle-rowband-size:0; mso-tstyle-colband-size:0; mso-style-noshow:yes; mso-style-priority:99; mso-style-parent:""; mso-padding-alt:0in 5.4pt 0in 5.4pt; mso-para-margin:0in; mso-para-margin-bottom:.0001pt; mso-pagination:widow-orphan; font-size:12.0pt; font-family:Cambria; mso-ascii-font-family:Cambria; mso-ascii-theme-font:minor-latin; mso-hansi-font-family:Cambria; mso-hansi-theme-font:minor-latin;} Follow Outside Shot on Twitter (@Outside_Shot) for more Bulls news and information