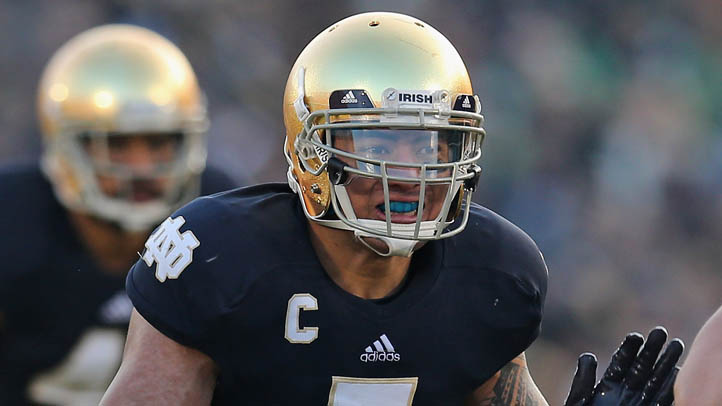 Few collegiate players have been discussed more this year than Notre Dame's Manti Te'o.
Unfortunately for Te'o, the discussion has had little to do with what he did on the field. The Heisman runner-up was involved in an elaborate hoax that his girlfriend -- who never existed -- died of cancer. Does this episode mean he can't play for the Bears, who may need a linebacker?
Bears general manager Phil Emery said he won't immediately take Te'o off the board because of the hoax. Every player in the draft is unique and has their own backgrounds to deal with.
"This will be my 16th draft, every individual is unique," Emery said Thursday morning at the NFL Combine. "Believe me, there are unique stories across every college class. So, is that unique? No. That is a situation and issue that has to be dealt with and worked through. Obviously, at some point we will sit down and talk to the player about it and see where he is at on it."
Emery has been around long enough to know to use every tool possible in evaluating draft prospects. The Bears will get a chance to spend 15 minutes with Te'o during the combine. They will also get to observe his strength, speed and agility and see results of his Wonderlic test.
Beyond the combine, Emery and his staff will break down video from Te'o's play with ND. Though he had impressive stats, some scouts aren't convinced that Te'o can make a huge dent in the NFL.
"Look at how Alabama exposed him in the national championship game," a scout said to USA Today. "He got overwhelmed."
This is why the combine is so important to Te'o. He has to show speed during the runs, strength during lifting tests, and poise during team interviews. If so, Te'o has the chance to change perceptions.
Copyright FREEL - NBC Local Media