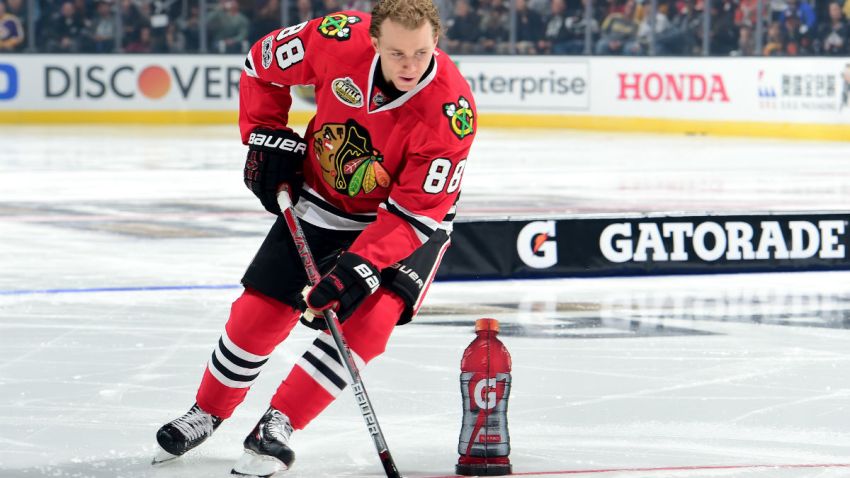 Chicago Blackhawks winger Patrick Kane will participate in the NHL All-Star Game this weekend, and we now know which event he will try to win in the annual Skills Competition.
Kane, the lone Blackhawks representative at this year's game, will compete in the Puck Control Relay, according to the NHL. The challenge will test players with three different drills, and will reward puckhandling, decision-making, and speed.
Some of the NHL's brightest young stars will go up against Kane, as Edmonton Oilers superstar Connor McDavid, Calgary Flames forward Johnny Gaudreau, and Ottawa Senators defenseman Erik Karlsson are all participating in the event.
Auston Matthews (Toronto), Tyler Seguin (Dallas), John Tavares (Islanders), and Aleksander Barkov (Florida) will also compete in the event.
The competition consists of a single round, with players completing three different drills. The first is to stick-handle a puck through eight pucks laid out on the ice. That drill is followed by a cone drill, where players will have to rapidly skate through a series of cones in the neutral zone.
Finally, players will have to guide the puck through a series of gates, with one rung lighting up to indicate which part of the gate they have to skate through.
The player with the fastest time at the end of the competition will be declared the winner, and will receive a $25,000 bonus for winning.
The NHL Skills Competition, featuring classic events like the fastest skater and hardest shot competitions, will take place at 6:30 p.m. on Saturday night, and will air on NBCSN.