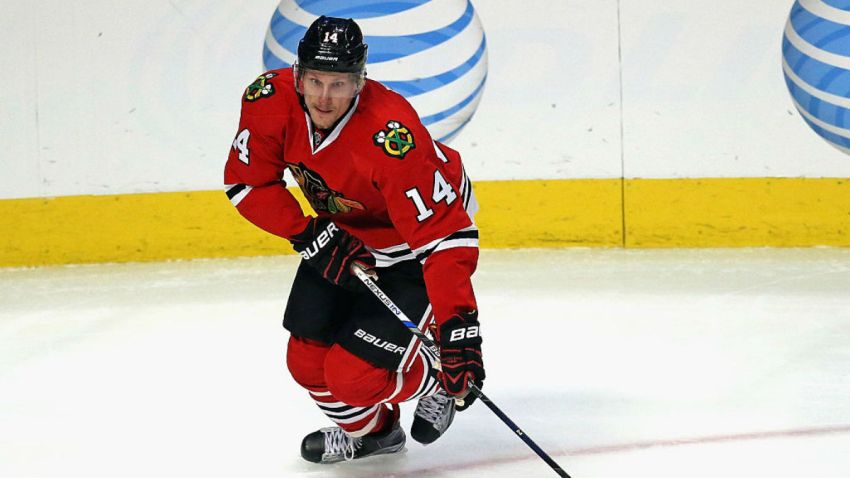 Richard Panik came through big to help the Chicago Blackhawks get their first win of the season.
Panik scored three goals for his first NHL hat trick, Scott Darling was sharp in making 33 saves and Chicago hung on for a 5-3 victory over the Nashville Predators on Saturday night.
"(Panik) had a great game," coach Joel Quenneville said. "He did a lot of good things. ... He's got ability offensively. He does some nice things with the puck. He's got some finish."
Panik scored his first goal midway through the first period to cap a Blackhawks blitz that put them ahead 3-0. Then, he scored twice in the third period, each time after the Predators had closed to within a goal.
Quennivelle believes Panik, acquired from Toronto last January, can give the Blackhawks a boost if "he can nail his consistency."
Chicago has a healthy dash of new, young faces in its lineup, and seemed out of sync in dropping its first two games this season.
Panik hopes he can help.
"My biggest weakness was to stay consistent, so I'm trying to focus on that," Panik said. "Just bring it every night. For me, (hitting) gets me into the game."
Nick Schmaltz, one of four rookies in Chicago's lineup, scored his first NHL goal and Brent Seabrook added a power-play score and an assist as the Blackhawks rebounded from a 3-2 loss at Nashville on Friday. Patrick Kane and Duncan Keith each had two assists.
Colin Wilson, Craig Smith and Viktor Arvidsson scored for the Predators.
The Predators outshot Chicago 36-27 and dominated in stretches, but were stymied by Darling in the backup goalie's first start this season.
"He was great," Quenneville said. "The chances we gave up tonight were high quality."
That didn't seem to bother Darling.
"I felt really comfortable out there," he said.
Nashville trailed 3-0 after Schmaltz, Seabrook and Panik scored in a 3:43 span in the first period, and could never pull even in this one.
"I liked our game," Nashville coach Peter Laviolette said. "I thought we ran out of steam a little bit in the third period but we still had some chances to score.
"But for two periods I thought we played with pretty good energy and did a lot of good things out there."
Nashville backup Marek Mazanec had 22 saves in his first NHL start since January 2015.
The Blackhawks scored on three of their first five shots to take a 3-0 lead and led by two after the first period as Darling stopped 15 of 16 Nashville attempts, including several nifty saves on point-blank chances.
Schmaltz opened the scoring 6:36 in when he plowed to the net off the left boards and beat Mazanec on the short side. Seabrook's power-play goal 1:43 later — from a faceoff and just 6 seconds into the advantage — made it 2-0..
Panik extended it to 3-0 at 10:19 when he drove to the net against defenseman Matt Carle, pivoted in front and slid in a backhander.
Wilson cut it to 3-1 with 1:29 left in the first by poking in a rebound of James Neal's shot to complete a 3-on-1 break.
Darling came up with two of his best saves, close-in pad stops on Smith and Wilson seconds apart, with just over five minutes left in the second.
From a faceoff and 6 seconds into a power play, Smith cut it to 3-2 on shot from the right circle with 1:16 left in the period.
Set up by Marian Hossa's pinpoint pass, Panik tapped in his second goal, on a power-play at 4:56 of the second to make it 4-2. But Arvidsson drove to the net, outworked Chicago defenseman Brian Campbell at cut it to 4-3 at 10:06.
Panik iced it when he completed his hat trick with 1:31 left after he was set up at the side of the net by Kane.