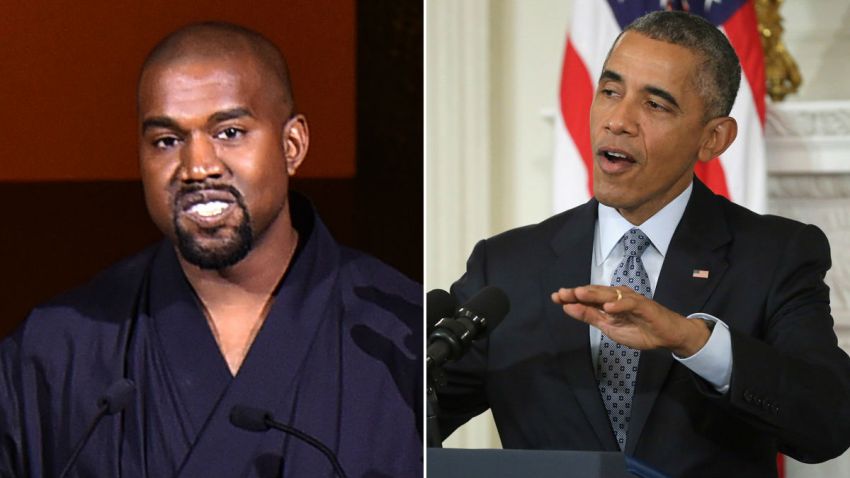 Appearing at the same political event Saturday morning, President Barack Obama took the opportunity to offer Kanye West some advice on the rapper's purported 2020 presidential campaign.
West declared his 2020 presidential run in August at the MTV Video Music Awards (VMAs). Although it is not clear if West actually intends to run, a "Ready for Kanye" PAC was filed with the Federal Election Commission following the awards show.
Both Obama and West attended a Democratic National Committee fundraiser event in San Francisco Saturday, where both took the stage, Obama to give a speech and West to perform.
To preface his speech, Obama nodded to West and his presidential campaign.
"In a little while you are going to hear from a guy who is thinking about getting into politics," Obama said before offering his advice "in case Kanye is serious about this whole POTUS thing, or as Kanye calls it 'peezy.'"
The president then went on to humorously explain what it takes to be president as well as what it takes just to get there, noting the two have a similar history.
"You got to deal with strange characters who behave as if they are on a reality TV Show. Saying you have a beautiful, dark, twisted fantasy, that's what's known as an off message in politics," Obama said in reference to West's 2010 album "My Beautiful Dark Twisted Fantasy."
"Do you really think this country is going to elect a black guy from the South Side of Chicago with a funny name to be president of the U.S.?"
Obama then took a more serious tone and discussed his record in domestic and foreign affairs, climate change and gun control legislation, the last of which drew the loudest applause.
Although West was invited as a performer, not a politician, his past antics and statements on stage have drawn him into debates that extend beyond his music. President Obama himself spoke on West's actions before, calling him a "jackass" after the rapper interrupted Taylor Swift while she accepted an award for Best Female Video during the 2009 VMAs.