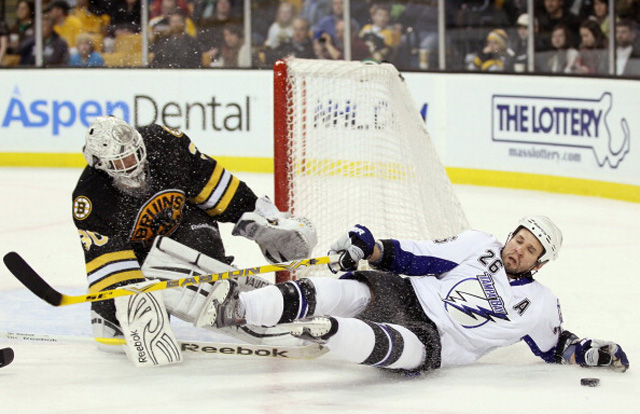 The Chicago Blackhawks can't start any worse than they did Tuesday night. And that's a good thing, because they don't want to let a struggling team come up for air as they did in South Florida.
The Hawks face a Lightning team that has lost four in a row, only gaining a point in one of those. Worse yet, they haven't managed five goals in those four games. And this is a team containing two of the top five scorers in the league in Steven Stamkos and Martin St. Louis.

Clearly, their scoring has been top heavy all year and when that's not firing, the Lightning are...well, not the Metallica song they should be. And Stamkos has one point and no goals in this losing streak. St. Louis only has one, as well. The reasons for the pot hole are pretty obvious.
The Bolts are kind of a fascinating statistical study. They aren't a very good even-strength team. In fact, you could argue they are a bad even-strength team, as they are -18 as a team in plus-minus. Not helping is that the former focal point of the team, Vinny Lecavlier (a devastatingly handsome man for those interested) is having an injury-filled, point-dip of a season. This is at least a 70+ point player per year, and this year he'll be lucky to crack 50.
The Lightning haven't been helped by injury. Ryan Malone -- their walking tattoo parlor and overall nasty dude -- is out, and he provides a lot of size. Summer pickup Simon Gagne couldn't keep things from falling off of him, and even when he's played he's been underwhelming. Professional polished turd Steve Downie will also be out Wednesday, and he brings most of the Lightning's jam.
Where this team can hurt is the power play. Even during this streak it's gone 3-for-19, which isn't the rate at which they were going but it isn't horrific. With a top unit that has Lecavlier, Stamkos, and St. Louis all searching for pray, you can't give them too many chances.

The power play has been hurt by Marc-Andre Bergeron's injury. It's unclear as to whether he'll take to the ice Wednesday or not. However, for those who think Brian Campbell has defensive problems (and if you do, I'd like to know what color the sky is in your world), wait til you get a look at this joker in his own zone.
The defensive unit for Tampa is not all that impressive. There's big future holder Victor Hedman, but after that a bunch of big guys who don't have the wheels, or much physicality. Watch for them to try and make the Hawks chip it in at the blue line, but they can't beat the Hawks back to the puck.
One expects the Hawks to come out with razor blades coming out of....well, the wrong orifice. They were seemingly embarassed by Tuesday night's start, and they should be intent on making amends.

If they can do that, and get ahead, the doubts should creep into the Lightning's head and more tangible than that is having a lead against a team that can't score 400 on the SAT's right now is just advantageous.
Let's start a new one.
Copyright FREEL - NBC Local Media