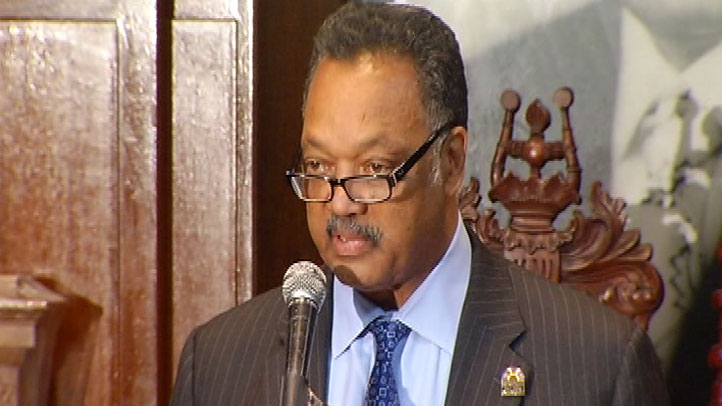 The Rev. Jesse Jackson said last Friday's shooting at an elementary school in Connecticut has "illuminated the darkness."

His remarks at a Monday evening prayer and policy discussion came as a chorus of Illinois leaders called for new restrictions on semi-automatic weapons at a time when the state is being forced to again deal with the issue of concealed carry.

Jackson, of course, is no stranger to gun violence. He witnessed firsthand the assassination of Dr. Martin Luther King Jr. in Memphis in 1968. More than 40 years later, he's still hoping for gun reform.

"We left the back of the bus not when the law changed, but when we changed our minds. Our minds changed, and the culture changed," he said.

Earlier Monday, Gov. Pat Quinn, Chicago Mayor Rahm Emanuel and Sen. Dick Durbin separately called for bans on semi-automatic weapons.

"As somebody who stood by President Clinton as he signed and made sure that we had a ban on assault weapons, I do not want to see more weapons on the street, more guns on the street," Emanuel told a class of graduating Chicago police recruits on Monday. "They make your job all that more difficult."

From the Senate floor, Durbin called for increased restrictions.

"Magazines with more than 10 rounds should be prohibited from civilian use," he said. "No one should be allowed to purchase more than two firearms -- maybe only one firearm -- a month. And those who own firearms that are within the reach of children should have protective locks on their weapons."

His remarks echo those he made in an op-ed piece published in Monday's Chicago Tribune.

Quinn favors stricter gun laws that include proper background checks but has been criticized, as has Emanuel, for budget cuts made to mental health programs.

"I think we need to look at our budgets, all of our budgets at the state and city and county levels to make sure that we use every resource we can to help with mental health," he said. "We do not want disturbed or deranged individuals to have access to deadly weapons."

But all of that political talk comes as Illinois lawmakers are faced with the task of rewriting the state's concealed carry law. A federal appeals court last week ordered Illinois to end its ban on concealed weapons.

Downstate Rep. Brandon Phelps said Monday he believes concealed carry would be a good crime-fighting strategy.

"Everywhere there's been concealed carry, crime has never increased. It's always gone down," he said.

"I believe that there's too many guns right now, but the problem is there's too many guns that the criminals have, and we're at their mercy. So no one can defend themselves or defend their families, and that's what people want," he added.

Quinn is awaiting a decision from Attorney General Lisa Madigan's office on whether the state will appeal the appellate court ruling.