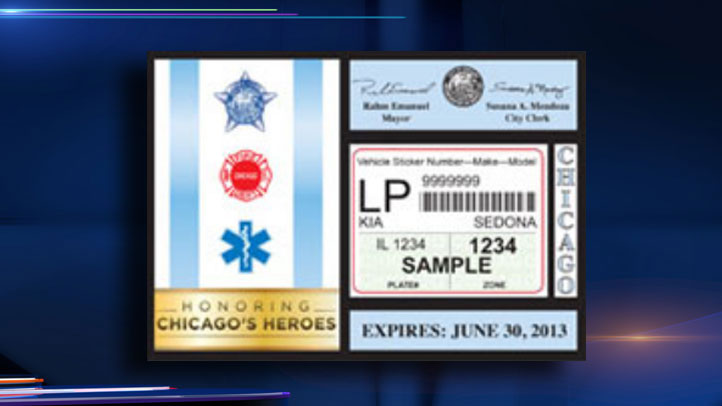 Chicago's latest, and presumably final, design of the 2012-2013 city vehicle sticker was unveiled Tuesday.

The safe, simple design of the decal hints at the theme of a now-infamous design contest -- Honoring Chicago's Heroes -- but should steer clear of gang-related innuendo.
More than 18,000 people voted in favor of a design created by Chicago teen Herbie Pulgar. The decal feature the Chicago skyline, the city flag and outstretched hands.

His winning entry, however, was later pulled by a shell-shocked city clerk amid cries it contained gang symbolism.

When the sticker was chosen, Pulgar told NBC Chicago on "The Talk" that he created the design to thank everyone who helped him during a tragic incident more than 10 years ago. When he was 4 years old, he said his clothes caught on fire when he was playing with a candle.

"The paramedics came and they saved my life," Pulgar said, "and I'm thankful for that, and this is how I can repay them."

Clerk Susana Mendoza then said windshields would be adorned by the design created by Caitlin Henehan, a senior at Resurrection High School. Henehan later pulled out of the contest, wanting little to do with the controversy.

Pulgar's father, Herbert Pulgar, was among 17 known gang and suspected gang members charged four years ago with trafficking cocaine. He's been the subject of an international manhunt ever since.