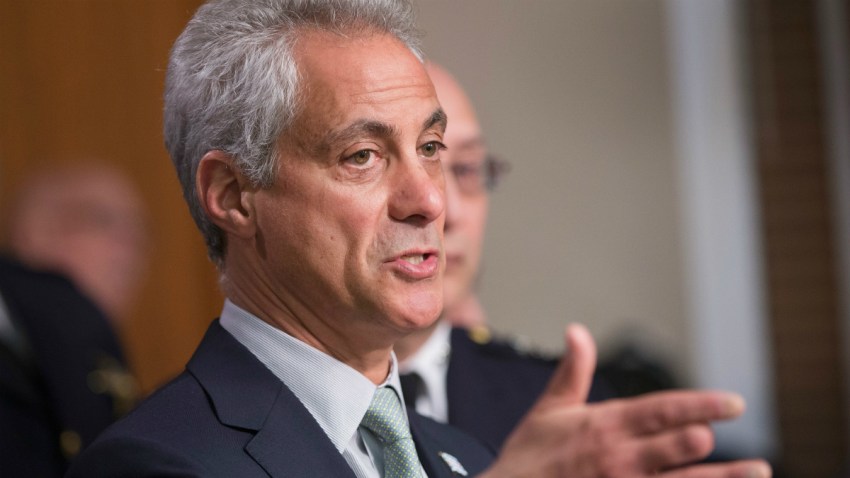 Mayor Rahm Emanuel responded Tuesday to reports of gang factions allegedly plotting to shoot members of the Chicago Police Department.
Members of three West Side gangs reportedly met last week to go over plans to shoot CPD officers as a response to the fatal police shooting of Chicago teen Paul O'Neal, which was captured using a police body camera and released to the public last week.
"There are 12,500 men and women who wake up every day, put on a uniform, hug their families, and leave their houses to spend the day protecting our families and our neighborhoods," Emanuel said in statement. "We need to support them, work with them, and never forget their dedication to doing an incredibly dangerous job and doing it well."
"We can have a reasonable conversation about the need for police accountability reform, but the idea that a bunch of gang members would threaten violence against the men and women every Chicagoan relies on for their own safety is absolutely unacceptable," he added.
According to the Sun-Times, the meeting between the three gangs reportedly took place last Thursday. One of the gangs reportedly "provided guns" to other gangs and have "a sniper in place," although authorities don't know where.
Dean Angelo, president of Lodge 7 of the Fraternal Order of Police, blamed "rhetoric" from the attorney of Paul O'Neal's family and statements from Independent Police Review Authority head Sharon Fairley, the case's lead investigator, for sparking the threats against police, according to the Sun-Times.
Angelo faulted the O'Neal family's lawyer, Michael Oppenheimer, for his "inflammatory and false rhetoric" and admonished Fairley for publicly talking about "how shocking and disturbing" the case is.