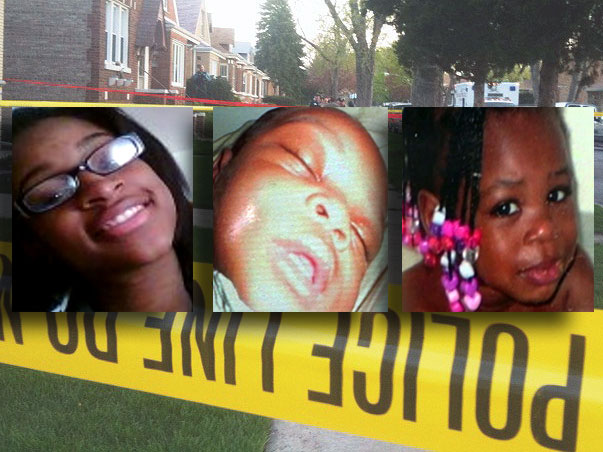 James Larry of Madison, Wisconsin allegedly looked up at the sky and didn't see the moon or the sun and decided it was a sign he should kill his wife, his son and two neices a source said.
He then went inside the brick home on the 7200 block of Mozart Avenue and allegedly executed his brood.

Killed in the massacre were Larry's wife, Twanda Thompson, 19; their 7-month-old son, Jihad Larry, and the man's nieces, Robeson High School student Keyshai Fields, 16, and Keleasha Larry, 3, relatives said.
Larry has been charged with first degree murder in all four killings and faces attempted murder charges in for shooting his mother, Leona Larry, and a teenage nephew, police and family said. They remained hospitalized Thursday.
Keyshai Fields and Twanda Thompson both were pregnant, family members said.

A 12-year-old girl in the house managed to escape and ran to a gas station, where she called 911. The gunman shot at her as she fled but missed, police said.

Larry later said "Allah" told him to kill his family and said he was sorry he ran out of bullets, according to police,.

Court documents in Madison, Wis., indicate Larry and Thompson were granted joint custody of the 7-month-old in a paternity case
just last week.

The couple married last month, according to the April 6 paternity judgment, despite a rocky relationship. Larry, who went by the Muslim name "Bayah" wanted Tawanda to wear Muslim clothing. But Tawanda, who family members said wanted to be a police officer, resisted.

Court records indicate James Larry has an arrest record dating to 1995 for battery, drug possession, resisting arrest and escape,
said Andy Conklin, spokesman for the Cook County, Ill., state's attorney's office.

Larry was sentenced in 2002 to almost six years in federal prison after pleading guilty to possessing a firearm as a felon.

Paroled in April 2007, he stayed out of trouble for about a year before he was sentenced to three months in a halfway house after he
admitted smoking marijuana.
Copyright CHIST - SunTimes