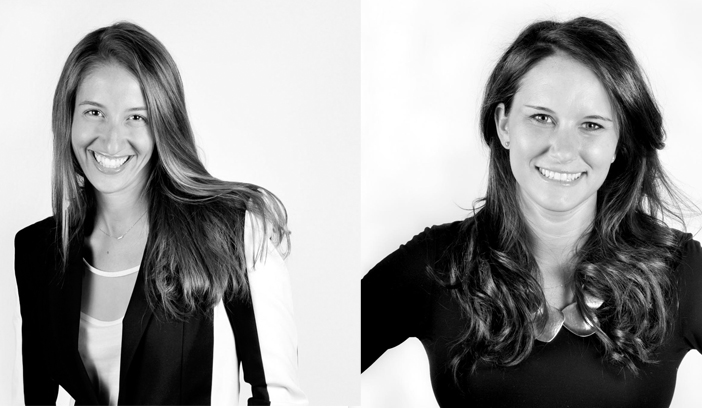 Luxury Garage Sale founders Lindsay Segal and Brielle Buchberg's friendship began before kindergarten, but their business partnership didn't form until 2010 after a fortuitous conversation. The fashion-savvy duo with online sales expertise started an e-commerce company for high-end consignment. This winter, they opened their first brick and mortar location in Old Town. Here, they share their entrepreneurial experiences creating an online service, building a retail store from scratch and seeking support from mentors.
How did you become business partners and what inspired Luxury Garage Sale?
Lindsay Segal: One afternoon in the summer of 2010 we were both discussing our jobs. Brie had been selling overstock for her grandparents antique store on eBay and I had been working as a freelance stylist, performing closet clean outs. I was never sure of a good service to recommend to my clients to move their old clothing items. We started talking and we decided we would start trying to sell ourselves. We wanted to start a service that not only had strong customer service, but also was fashion savvy. One thing led to another and word spread. Before we knew it, we had a fully operating business!
Brielle Buchberg: We have been friends forever and the business launched thanks to a casual conversation at exactly the right time. My grandparents were retiring from their antique store and I was helping them sell their remaining overstock as a favor. I became addicted to researching and selling, however, I wasn't incredibly interested in the items I was selling for them. Realizing my interest in selling, and Lindsay's new need to sell, we joined forces and Luxury Garage Sale was born.
What is the biggest advantage of having a business partner and what is the most difficult challenge?
Lindsay Segal: The biggest advantage is having someone to bounce ideas and issues off of. Brie and I constantly hash things out, and it really helps to have a sounding board. The most difficult challenge is when you don't see eye-to-eye on a resolution to a problem, but we have both learned the art of compromise. It is an evolving process.
Brielle Buchberg: In our case, we both bring different strengths to the business. When we started the business we did not discuss roles and responsibilities because they naturally fell into place. We depend on each other in the areas we both excel in. And, as Lindsay mentioned, we need each other to talk through issues and make decisions. While we can both go to family and friends for advice, we are the only two people who fully understand what it takes to run LGS and we both truly value having someone to relate to.
Why did you decide to transition from e-commerce to a retail store?
Lindsay Segal: When Brie and I started, we never sought out to be an "eBay only" service. We loved the idea of doing flash sales and pop-up shopping events. In between these sales, it became necessary to move the merchandise that did not sell at the events online. However, the more we sold online, logistically the more difficult it became putting together these huge events. This became a bit of a catch 22. At the same time, we constantly had people asking us to come shopping in between our pop-up shops. We started to realize we were missing a huge demographic of women who did not like to online shop, and would never be customers unless we opened up a brick and mortar store that showcased all our merchandise. The store is great because it is a tangible reflection of our aesthetic and our brand.
Brielle Buchberg: We are not actually transitioning from e-commerce to retail, we are just expanding our brand and allowing customers to shop in another capacity. In addition to our online store, we wanted to allow clients to be able to shop our inventory in person. As Lindsay explained, our pop-up shopping events were so successful but only gave small glimpses of the inventory we had for short periods of time. Now clients can come see our constantly changing inventory every day.
What caught you off guard about the process?
Lindsay Segal: I don't think Brie and I really knew what we were getting into building a store from the ground up. From finding a space, to getting city permits, to construction, it really has been a labor of love.
Brielle Buchberg: Amen. There have been no surprises now that the store is open. The process of getting the store open, on the other hand, was a bit overwhelming!
Who are your business mentors?
Lindsay Segal: We are grateful to have families that work in real estate and business, so they have been huge helps to us. We also have met many small business owners in the past two years who are always willing to lend a hand, and an idea. There really is great support for small business start-ups in Chicago, and Brie and I have tried to take advantage of all the resources that are out there willing to lend a hand.
Brielle Buchberg: Our families and friends have been incredibly supportive, providing us advice and help whenever needed. We have also seen an outpouring of support from other boutique owners, the Chamber of Commerce and friends in the start-up/tech world. Our business is multi-faceted and so having advice from people in these various fields has been essential to our success.
In five years, what's happening at Luxury Garage Sale?
Lindsay Segal: More national presence. An e-commerce site. And perhaps a second location? Brie and I also want to start to take some of our pop-up shops on the road. Expect big things. We are so excited to have finally opened our store, but we promise to have lots more exciting things on the horizon in 2013!
Brielle Buchberg: We are incredibly excited for all of the above! Stay tuned!
Rachel Gillman has an insatiable appetite for dining out and an obsession with the restaurant industry. She's also fascinated by entrepreneurs and enjoys uncovering the story behind building a business from scratch. You can follow her on Twitter @RachelGillman.