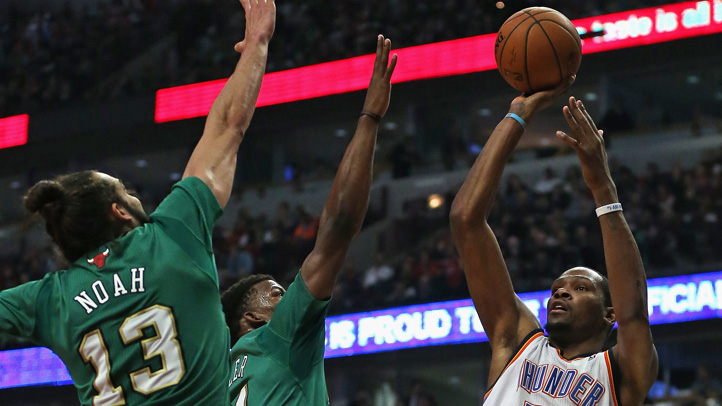 Kevin Durant finished with 35 points and 12 rebounds, and the Oklahoma City Thunder beat the Chicago Bulls 97-85 on Monday night.
Russell Westbrook added 17 points after sitting out the previous day to rest his surgically repaired knee, and the Thunder rebounded from their most lopsided loss of the season.
They went on a 13-point run after the Bulls scored eight straight early in the fourth to cut the lead to one and pulled this one out after falling by 23 at home to Dallas on Sunday.
Durant ran his streak of games with 25 or more points to 32, the longest in the NBA since Michael Jordan did it in 40 in a row during the 1986-87 season. He also chipped in with five assists.
Westbrook had nine rebounds and nine assists, although he did struggle from the field. He was 5 of 14, and the Thunder got by despite shooting just 41.3 percent.
The Bulls never found their rhythm, converting just 34.5 percent, and settled for a six-game split on a tough homestand that included wins over defending champion Miami and Houston.
Joakim Noah, who's been hearing "MVP!" chants lately, had a rather quiet night, although he just missed his fourth triple-double of the season. He shot just 2 of 8 but finished with nine points, 12 rebounds and nine assists.
Taj Gibson had 16 points and seven rebounds. Jimmy Butler scored 13, and Carlos Boozer chipped in with 12 points and 11 rebounds, but the Bulls came up short.
The Thunder were leading by nine early in the fourth when the Bulls scored eight straight points, Butler's breakaway dunk putting a charge in the crowd and back-to-back baskets by Gibson cutting it to 76-75 with about 10 minutes remaining.
The Thunder responded by scoring 13 straight to put this one away.
Derek Fisher started the decisive rally with a 3-pointer. A layup by Serge Ibaka, dunk by Durant, three free throws by Caron Butler, a driving bank shot by Westbrook and a free throw by the guard just over a minute later made it 89-75 with 3:45 remaining.
Westbrook was a bit out of sync at times after sitting out Sunday's game.
Occasional rest is part of the plan after he missed 27 games following his most recent surgery, his third procedure since he injured the knee in the playoffs last April, and the Thunder are in a busy stretch.
The games against Dallas and Chicago were the first of three back-to-backs on Oklahoma City's schedule by March 25.