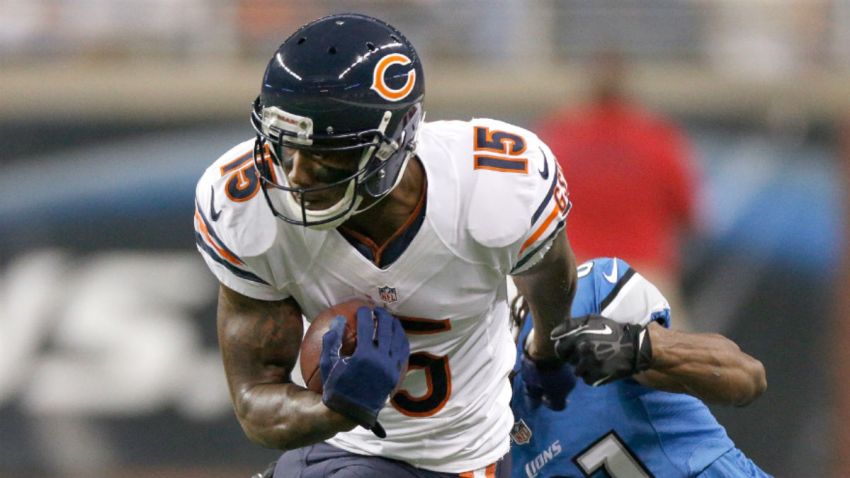 The Chicago Bears will battle the Detroit Lions for the top spot in the NFC North Sunday afternoon.
We'll be watching the game, will you?
We're chatting about the game right here, offering updates and asking you questions, and we want to hear what you have to say!
Share your thoughts in the comments section below or join us on Facebook and Twitter.
Onside kick #Lions recover & beat #Bears 21-19 post game reC & Trestman on QB decisions coming up #NBC5news & tonight on #ss — Peggy Kusinski (@peggykusinski) November 10, 2013
McCown on 3rd down finds @BMarshall for Touchdown & no one open on 2 pt Von erosion... A FLAG is down — Peggy Kusinski (@peggykusinski) November 10, 2013
Official word is Cutler is out with an ANKLE injury — Peggy Kusinski (@peggykusinski) November 10, 2013
#bears put McCown in for 2 min drive — Peggy Kusinski (@peggykusinski) November 10, 2013
#lions @Bigplaycj TD makes it 21-13 Detroit with 2:22 left — Peggy Kusinski (@peggykusinski) November 10, 2013
#Bears FGA good, trail #Lions now 14-13 9:17 left in 4Q. Does Cutler have enough for a comeback drive? — Peggy Kusinski (@peggykusinski) November 10, 2013
after review, refs say @AJJeffery1 lost control of ball when he hit the ground. NO TD. — Peggy Kusinski (@peggykusinski) November 10, 2013
#Bears needed a perfect throw & a great catch by @AJJeffery1 on 14 yd TD to take lead on #Lions with 9:22 left in 4Q — Peggy Kusinski (@peggykusinski) November 10, 2013
#Bears 1st & goal from 9, and @MattForte22 9 yd touchdown called back by holding call on Slauson — Peggy Kusinski (@peggykusinski) November 10, 2013
#Bears Chris Conte intercepts Stafford +35 return to #Lions 9 yard line — Peggy Kusinski (@peggykusinski) November 10, 2013
#Lions punt & #Bears Cutler back onto field for next possession — Peggy Kusinski (@peggykusinski) November 10, 2013
Should Marc Trestman remove Jay Cutler from the game for the fourth quarter? Chat with us here: http://t.co/noZz9OT7YL — Grizzly Detail (@Grizzly_Detail) November 10, 2013
(function(d, s, id) { var js, fjs = d.getElementsByTagName(s)[0]; if (d.getElementById(id)) return; js = d.createElement(s); js.id = id; js.src = "//connect.facebook.net/en_US/all.js#xfbml=1"; fjs.parentNode.insertBefore(js, fjs); }(document, 'script', 'facebook-jssdk'));
3rd & 8, #Bears Cutler starts to move to his right & stops, throws away. He is hurting. — Peggy Kusinski (@peggykusinski) November 10, 2013
#Bears Cutler slowly out to field with the offense — Peggy Kusinski (@peggykusinski) November 10, 2013
#Bears FG good, Garza walks Cutler off field met by McCown at sideline. Cutler in ballcap looks at film w/Cavanaugh & McCown on bench — Peggy Kusinski (@peggykusinski) November 10, 2013
Cutler IS on the field for the #Bears as they start their first possession of the third quarter. Still looks like he's limping a bit. — Grizzly Detail (@Grizzly_Detail) November 10, 2013
Tillman wanted offensive pass interference pushing off, but TD stands @Bigplaycj 2 feet inbounds. #Lions take 14-7 lead — Peggy Kusinski (@peggykusinski) November 10, 2013
#Bears QB Cutler was limping after back to back pressure 1st HF when pocket collapsed (1 inc. to Jeffery, 1 complete) plus swollen left hand — Peggy Kusinski (@peggykusinski) November 10, 2013
(function(d, s, id) { var js, fjs = d.getElementsByTagName(s)[0]; if (d.getElementById(id)) return; js = d.createElement(s); js.id = id; js.src = "//connect.facebook.net/en_US/all.js#xfbml=1"; fjs.parentNode.insertBefore(js, fjs); }(document, 'script', 'facebook-jssdk'));
#Bears Cutler intercepted in endzone by Levy on 2nd & goal. — Peggy Kusinski (@peggykusinski) November 10, 2013
#Bears Trestman passes up 44-45 yd FGA & goes for it on 4th & 1 from Lions 27 yd line, @michaelbush29 is short. — Peggy Kusinski (@peggykusinski) November 10, 2013
(function(d, s, id) { var js, fjs = d.getElementsByTagName(s)[0]; if (d.getElementById(id)) return; js = d.createElement(s); js.id = id; js.src = "//connect.facebook.net/en_US/all.js#xfbml=1"; fjs.parentNode.insertBefore(js, fjs); }(document, 'script', 'facebook-jssdk'));
#Lions answer with a 12 play 85 yard Touchdown drive. Durham 5 yard touchdown wide open in endzone. #Bears & #Lions tied at 7 — Peggy Kusinski (@peggykusinski) November 10, 2013
nice ball fake by Cutler & 32 yard Touchdown @BMarshall post route, had 62 yards on 5 play scoring drive. 7-0 Chicago leads #lions — Peggy Kusinski (@peggykusinski) November 10, 2013
#Bears veterans day - did you know George Halas played on the Naval Team at Great Lakes one year while serving pic.twitter.com/yQzsgz9Ctb — Peggy Kusinski (@peggykusinski) November 10, 2013
#bears Shea McClellan inactive today against the #Lions David Bass starts at defensive and in his place — Peggy Kusinski (@peggykusinski) November 10, 2013
(function(d, s, id) { var js, fjs = d.getElementsByTagName(s)[0]; if (d.getElementById(id)) return; js = d.createElement(s); js.id = id; js.src = "//connect.facebook.net/en_US/all.js#xfbml=1"; fjs.parentNode.insertBefore(js, fjs); }(document, 'script', 'facebook-jssdk'));
(function(d, s, id) { var js, fjs = d.getElementsByTagName(s)[0]; if (d.getElementById(id)) return; js = d.createElement(s); js.id = id; js.src = "//connect.facebook.net/en_US/all.js#xfbml=1"; fjs.parentNode.insertBefore(js, fjs); }(document, 'script', 'facebook-jssdk'));
Could Bennett Be In for a Big Afternoon Against Lions? http://t.co/QJbsPoDeC5 — Grizzly Detail (@Grizzly_Detail) November 9, 2013
(function(d, s, id) { var js, fjs = d.getElementsByTagName(s)[0]; if (d.getElementById(id)) return; js = d.createElement(s); js.id = id; js.src = "//connect.facebook.net/en_US/all.js#xfbml=1"; fjs.parentNode.insertBefore(js, fjs); }(document, 'script', 'facebook-jssdk'));