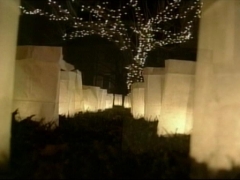 A jackknifed semi truck temporarily closed all inbound local lanes of the Kennedy Expressway early Tuesday on the Northwest Side.
The single-vehicle crash happened about 5 a.m. in the inbound lanes of I-90/94 near Kimball Avenue, according to Illinois State Police.
All inbound local lanes of the expressway were closed to traffic, although the express lanes were clear, police said. Lanes began to open around 6:15 a.m., but drivers were experiencing extensive delays.
Traffic moving again, IB Kennedy @ Kimball, clearing of the jackknife semi. Semi moved to right shoulder @nbcchicago pic.twitter.com/bG8PErjRsm — Kye Martin (@KyeMartinNBC) August 16, 2016
It was not immediately known whether anyone was injured in the crash.