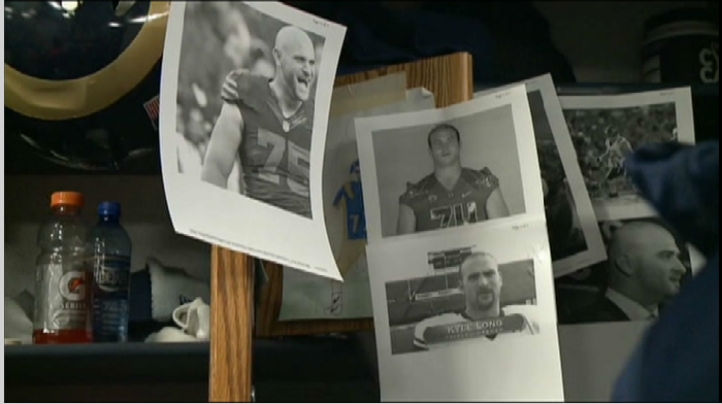 Surely NFL Hall of Famer Howie Long and his wife Diane circled Nov. 24 on the calendar long ago. Whether sons Kyle and Chris Long did, however, neither would likely admit. But Rams teammates filled Chris Long's locker with photographs of his younger brother Kyle in a Bears uniform, just as a reminder.
Sunday in St. Louis, Bears rookie Kyle Long and Rams veteran Chris Long will take the field for the first time ever -- together.
"There's no precedence with this in my experience," Chris Long told reporters Wednesday. "We've never been on the same field together. It's going to be hopefully, a special day, we can soak it in."
"I can't emphasize enough how blessed my family and I are to have this problem of two brothers playing against each other," said younger brother Kyle Long.
Unlike Peyton and Eli Manning, they're not quarterbacks, or skilled receivers like Shannon and Sterling Sharpe. And the six years between them don't exactly qualify them as twin brothers like Ronde and Tiki Barber, both NFL standouts in their careers.
Still, in the Long household this is big because both players had to follow in their father's footsteps, which went through Canton and the Pro Football Hall of Fame.
"It's not easy no matter what anybody's told you," Chris Long explained of younger brother Kyle's pressures growing up. "Being the son of a hall of famer, and add into it being my little brother - for what it's worth, that can be difficult too."
Chris Long was the second overall draft pick in 2008 -- the same time Kyle Long was "messing" up in college. Then a pro baseball prospect with a 95 mph fastball, Kyle was arrested for DWI before quitting baseball and college to get his life back together.
"He's messed up once or twice and gotten knocked down once or twice and taken the long path" said Chris Long. "But, heck, for a guy that's been at one college, a Ju-Co and changed sports and played one year of major college football, he's done a hell of a job."
Chris Long is proud of younger brother Kyle Long, who was drafted in the 1st round, 20th overall, by the Bears after just eight games starting at Oregon on the offensive line.
"I'm just proud of the way he's handled everything and the man he is," Chris Long said.
Having a mentor in an older brother who could show him how to act on and off the field is better to Kyle Long than having a father in the Hall of Fame.
"People think my dad would be my idol, but my older brother is somebody that I've idolized. I've looked up to him my entire life," the Bears rookie said while quoting a line from a Drake song, "when your idols become your rivals."
Ten games into Kyle Long's rookie season he's surprised many with his poise learning a position that is still raw to him. He has a ways to go before reaching brother Chris', who has back-to-back 10-sack seasons with the Rams, adding a defensive touchdown two weeks ago.
But this past summer, younger sibling Kyle beat Chris at something for the first time. Pushing a jeep with big mud tires down the family's driveway at their home in Montana. It's part of their offseason workouts, as Kyle Long explained.
"You're supposed to go 30 yards and you time it," Kyle Long said. "Chris got there in like 11 seconds and I went in 9.5 and I was fired up and I sprinted and jumped in the lake talking smack."
The Bears are 6-4 and Kyle Long's job is to protect backup quarterback Josh McCown. The Rams are 4-6, Chris Long's job is to take that quarterback out. Sunday there's more at stake than bragging rights at Thanksgiving.